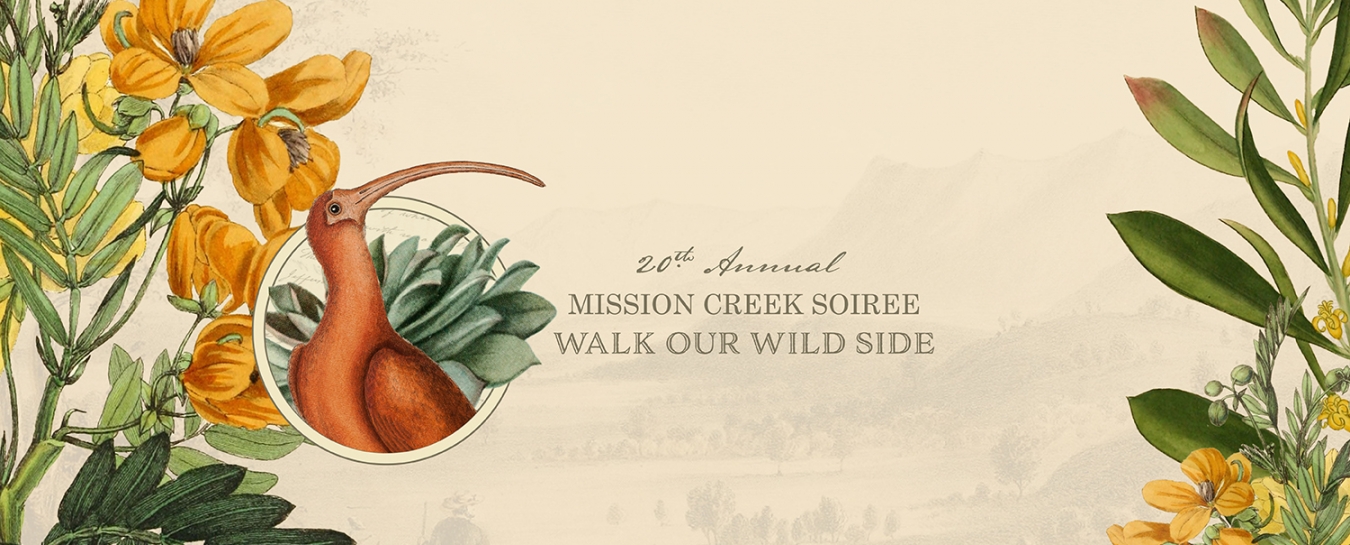 Annual Mission Creek Gala


Mission Creek Soirée: May 18, 2019
You can make a difference in a child's life right here in our community by supporting the Santa Barbara Museum of Natural History's 20th annual Mission Creek Soiree Walk Our Wild Side. This exciting event will take place on Saturday, May 18th on the Museum's Mission Canyon campus.

This annual event celebrates the Museum's incredible commitment to nature and science education for schoolchildren. This year's Soiree will include beautiful décor, specialty cocktails, a gourmet dinner, and a few surprises specifically designed to provide our guests a truly enjoyable evening.

The Museum touches the lives of nearly 20,000 schoolchildren each year. For many of these children, the Museum or the Sea Center is their first introduction to the wonders of nature and the remarkable region in which we live. These learning experiences set the stage for a life-long interest in both science and the natural world.
Event & Sponsorship Details

5:00 PM Cocktails, Hors d'oeuvres, and Backyard experiences

7:00 PM Dinner

Woodland Chic attire

The Soiree will take place entirely outside on the beautiful Museum campus and includes walking. Transportation is available.

BENEFACTOR SPONSOR $10,000
Table for ten (10) guests well-located for viewing

Private wait staff, Champagne toast, Museum Honorary Patron memberships for guests
TABLE SPONSOR $5,000
Table for ten (10) guests, Museum memberships for guests
PATRON SPONSOR $1,500
Two (2) event tickets
TICKETS $300 per person
Add a Butterfly Dinner $10,000
In lieu of a Live Auction the night of the Soiree, you have the opportunity to purchase a gourmet dinner for ten (10) guests in the beautiful Butterfly Pavilion (mutually agreeable date Summer 2019).

Underwriting opportunities are available and are a great way to publicize your business.
Invitaton $5,000
Event Program $2,000
Centerpieces $3,000
Guest Gifts $500
Dessert Course $5,000
Entertainment $5,000
Soiree Committee
Stacey Byers, Chair
Ginny Bliss
Amy Carpenter
Carolyn Chandler
Sheri Eckmann
Venesa Faciane
Elisabeth Fowler
Caroline Grange
Gillian V. Grant
Heather Hambleton
Pippa Hames-Knowlton
Emily Jones
Kaliope Kopley
Bobbie Kinnear
Meridith Moore
Susan Parker
Kimberly Peden
Pam Valeski
Luke J. Swetland, President & CEO
Please call Caroline at 805-682-4711 ext. 109 for details or to support the Museum's soiree!