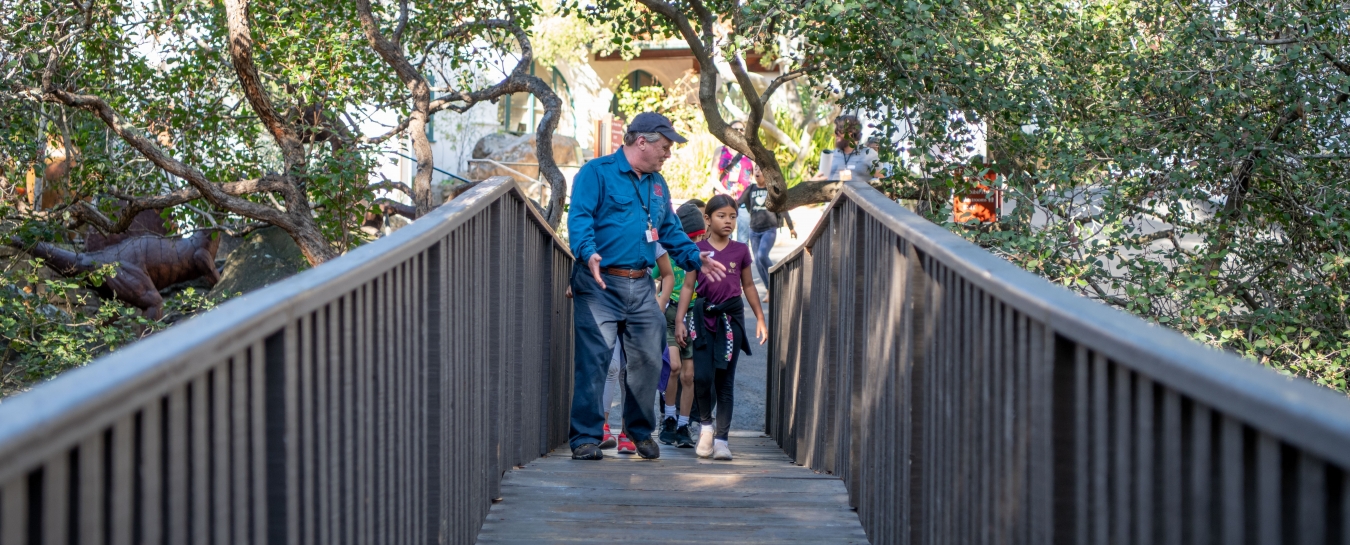 Towbes Family Bridge Repair Project
Keeping Nature Accessible
Our beloved bridge over Mission Creek is closed and in need of repairs. Help us fix it so school groups and families can continue to explore the wild side of the Museum!
Built in the 1930s, the Towbes Family Bridge spans Mission Creek at the very heart of the Museum's outdoor spaces and provides direct visitor access to two acres of Museum property on the south side of the watershed.
While there is a vehicular bridge to the east, the Towbes Family Bridge not only provides the central path of travel across the creek, but is beyond doubt the very best location on campus to spot wildlife such as ducks, perching birds, and frogs.
The bridge is quite literally the gateway to the Sukinanik'oy Garden of Chumash Plants, Coggeshall Bowl, and the Wooded Area, where hundreds of couples have been married, the latter often then choosing the bridge for their iconic wedding photo.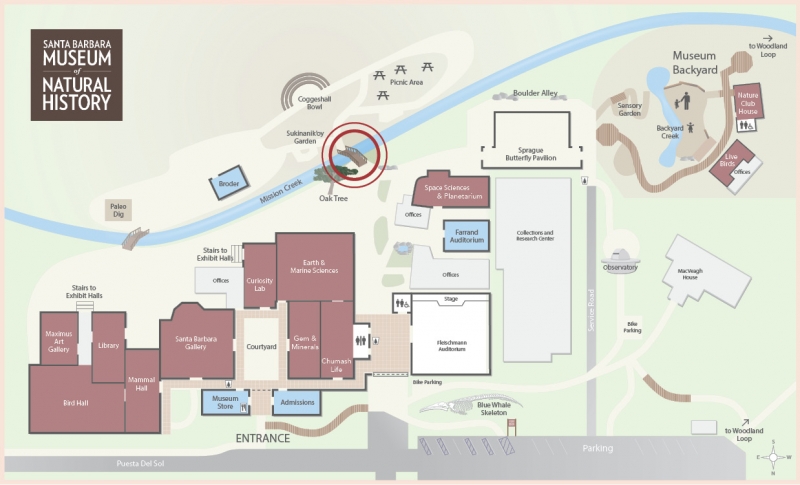 It is absolutely critical that the bridge come back into service as soon as possible.
Campers, schoolchildren, and museumgoers cross the bridge to access the south side of campus for summer camp activities, field trips, and more recently to see the dinosaur exhibit Prehistoric Forest, which will be returning winter 2021 as a permanent installation.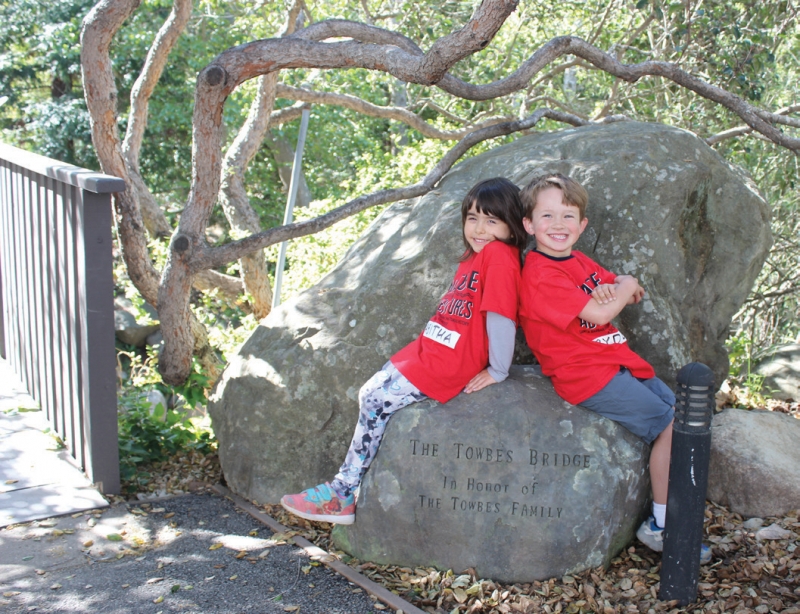 The bridge helps us realize our vision: Connecting people to nature
Over the decades, the bridge has been improved, and in the 1980s major overhauls were made, but the current bridge materials are nearly 50 years old and in need of repairs. We have closed the bridge for safety reasons until those repairs can be made.
When the Museum reopens, this bridge is necessary to provide access to the south side of the creek for people with mobility challenges. Likewise, our school groups, summer campers, and daily visitors will waste time and steps to only then face a bottleneck if access is limited to only the vehicular bridge on the far eastern side of the campus.
The $450,000 bridge repair work will begin summer 2021.
With a major donation to the Centennial Celebration Campaign in 2016, Michael and Anne Towbes chose to have their family name associated with the pedestrian bridge. Anne shared, "Michael loved bridges. After all, he became a civil engineer and had a lot of practice designing them! He always thought that education was the 'bridge' to a better and more expansive life. Our family truly enjoyed our time together at the Santa Barbara Museum of Natural History over the years, and we still do! SBMNH is a true center of education about our relationship to the natural world. That's why Michael chose the Towbes Family Bridge as his symbolic seal of approval for the Museum's mission."
The Museum is raising funds to support the bridge repair and will recognize donors on a tribute plaque near the Towbes Family Bridge.
For more information or to make a donation, contact President & CEO Luke J. Swetland or Director of Development Caroline Baker:
Luke J. Swetland
lswetland@sbnature2.org
805-682-4711 ext. 101
Caroline Baker
cbaker@sbnature2.org
805-682-4711 ext. 109