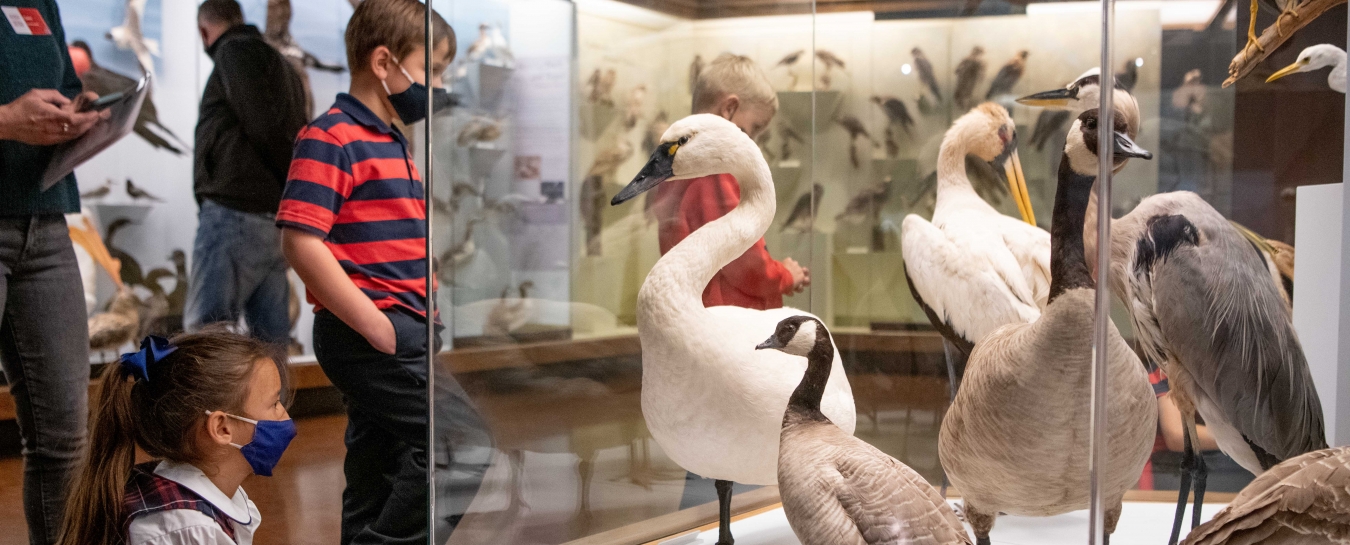 Membership FAQs
How do I use my membership card to receive free admission?
To gain free entry to either the Museum or Sea Center, simply show your digital membership card and a photo ID. If you don't have your card, you'll need to provide a photo ID, and our Guest Experience staff can look up your membership in our records.
How soon after my purchase can I begin using my membership?
When you purchase a Museum membership, it becomes effective immediately. Keep your receipt or email confirmation to use as proof of membership. If you are trying to purchase tickets to a Museum or Sea Center event, and you have not received your Member ID number, which will be on your digital membership card, please call our Membership Office at 805-682-4711 ext. 114.
Will I receive a membership card?
Please help us with our effort to reduce plastic in the environment by utilizing our digital membership card. You will receive a link to download your digital card within a week of purchasing your membership. If you prefer to receive a plastic membership card instead, please contact us at 805-682-4711 ext. 114 or membership@sbnature2.org. You can also indicate your preference to receive a plastic membership card as you join or renew your membership.
How do I install my digital membership card on my mobile device?
For iPhone Users
Access the email from your smartphone and click the "Download" button, then click "Add to Wallet" and "Add." The card will automatically go to your iPhone's Apple Wallet. It can be accessed in Wallet at any time.
For Android Users
Android users need to download Wallet Passes from Google Play. After you have the app, access the email from your smartphone and click "Download" in the membership email, and the card will automatically go to your Wallet Passes app, where it can be accessed at any time.
How do I send the card to a joint cardholder?
To share the pass with a joint cardholder, click on the black circle with the three white dots on the top right corner of your digital card. You will be directed to the backside of your Membership card which lists all of your Member benefits. To share pass, click on the forward link on the top right side to send by email. It cannot be sent by text.
If I renew early, will I lose the months of membership I have left?
No, your membership runs an entire calendar year from the date of purchase. If you renew early, the new membership will begin when your old membership expires.
How long is a membership valid?
Memberships are valid for 12 months and will expire the following year at the end of the month purchased.
Can I upgrade my membership?
Yes. If you decide that you would like to upgrade your current membership level, you may do so at any time. Please note, we do not pro-rate our memberships. You will need to pay the difference between the full cost of the membership level you currently have and the level to which you are upgrading.
If you choose to upgrade your membership within three months of your expiration date, we will allow you to renew your membership at the higher level for the following year, and will upgrade the remaining months of your membership for no additional charge.
Can I add an additional person or childcare provider to my membership?
Yes, this is possible with a Family Plus level membership. This level is geared toward families who have a caregiver, grandparent, or frequent guest who visits. By choosing the guest option, the user must be accompanied by named individuals on the membership. By providing a designated name, that individual may visit the Museum or Sea Center without the main cardholders.
Are children included on the Member-level membership?
No, household children are included at the Family level and above only. Member-level memberships include free admission for two named adults or one named adult and an unnamed guest. By choosing the unnamed guest option, the Member may bring a child as the unnamed guest. The named Member must be present in order for an unnamed guest to receive free admission. Only adults may be named Members on the membership.
What if my membership has errors?
We are happy to fix incorrect membership cards. If there is an error please email membership@sbnature2.org and provide us the information that needs to be updated. Please be sure to identify who you are and include your membership ID number.
Are there any restrictions to the ASTC Travel Passport Program?
Yes. The ASTC Travel Passport Program only entitles visitors to free general admission at participating science centers/museums with proof of membership. It does not include free admission to family festivals, special events and exhibits, theatre presentations or planetarium shows, nor does it include discounts in museum stores, on parking or other benefits.
To receive ASTC Travel Passport Program benefits, you must live more than 90 miles away from the center/museum you wish to visit. The admission staff has the right to request proof of residence to apply the benefits. 90 miles is measured "as the crow flies," not by driving distance.
Additionally, science centers/museums located within 90 miles of each other are excluded from the Travel Passport Program unless exclusion is lifted by a mutual agreement. 90 miles is measured "as the crow flies" rather than by driving distance.
If you are a Member at another institution and wish to use your ASTC privileges for admission to the Santa Barbara Museum of Natural History, please contact membership@sbnature2.org. 
Are memberships refundable?
No, memberships are not refundable or transferable. All membership sales are final. If you have further questions or concerns, please contact membership@sbnature2.org.
Are pets allowed at the Museum of Natural History or Sea Center?
In order to provide a secure and healthy environment for our guests, as well as to protect our collections, we can only allow trained service animals on Museum property. Please see our Accessibility page for more information on our service animal policy.