Careers
Why work at the Museum and Sea Center?
We seek to connect people to nature for the betterment of both. Some of the greatest challenges facing our planet stem from human disconnect from nature and a lack of science literacy. People working here are part of the solution. This is true whether you're interpreting science with the public, stewarding collections and facilitating research, or funding and maintaining the infrastructure we use to preserve and communicate. Browse our current career opportunities and find meaningful options now.
Our core values are passion, leadership, integrity, and community. We pride ourselves on our ability to use experiential education based on accurate science to elevate important conversations and empower enthusiastic stewards of the planet.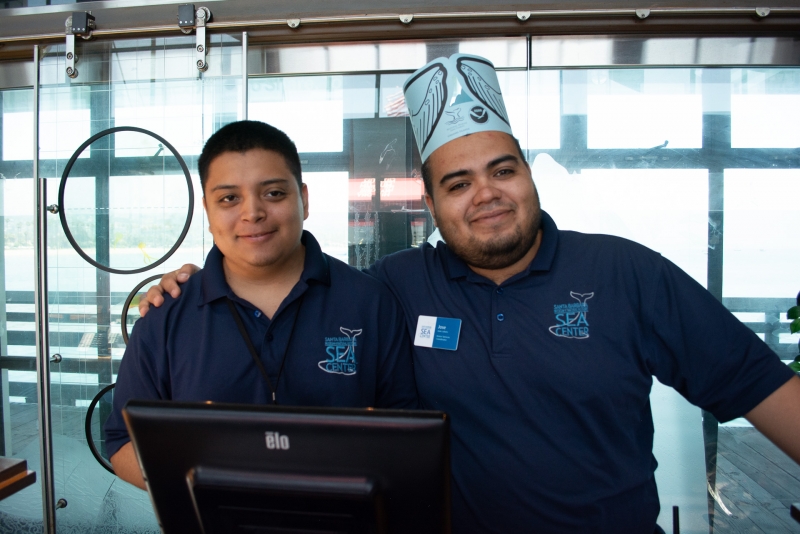 Teamwork is part of our culture. We serve thousands of guests and curate millions of objects; nobody does that alone. When you work here, you can expect to support and be supported by colleagues in a wide variety of departments working together.
Science and nature bring us together, collaboration and inclusion makes us stronger. The Santa Barbara Museum of Natural History provides equal employment opportunities to all employees and applicants for employment, and prohibits harassment of any type and discrimination based on race, color, religion, age, sex, national origin, disability status, genetics, protected veteran status, sexual orientation, gender identity or expression, or any other characteristic protected by federal, state or local laws. This policy applies to all terms and conditions of employment, including recruiting, hiring, placement, promotion, termination, layoff, recall, transfer, leaves of absence, compensation and training.
We are committed to furthering justice, equity, diversity, and inclusion (JEDI) in every aspect of our work. Our administration supports the efforts of our staff JEDI team and has committed to a long-term, institution-wide course of training with Equity Praxis Group, LLC to spread understanding and build solutions throughout our organization.
The Museum and Sea Center welcome staff, volunteers, and visiting scholars regardless of race, religion, gender identification, sexual orientation, age, or disability status. We're dedicated to serving all parts of the global and local communities. We constantly strive to make our campuses more accessible to all. We are proud members of Museums for All and offer discounted admission to guests with a valid CalFresh SNAP EBT card. We honor our active duty military personnel and their families through the Blue Star Museums summer discount program.
The Museum and Sea Center are totally unique places to work. We promise you won't be bored. Working among our exhibits, you'll never stop learning about the Santa Barbara region's natural and cultural history, or the biodiversity and ecological importance of our local marine habitats. Unlike most natural history museums and many aquariums, we are physically located among the habitats we interpret, so we can learn by immersion, too.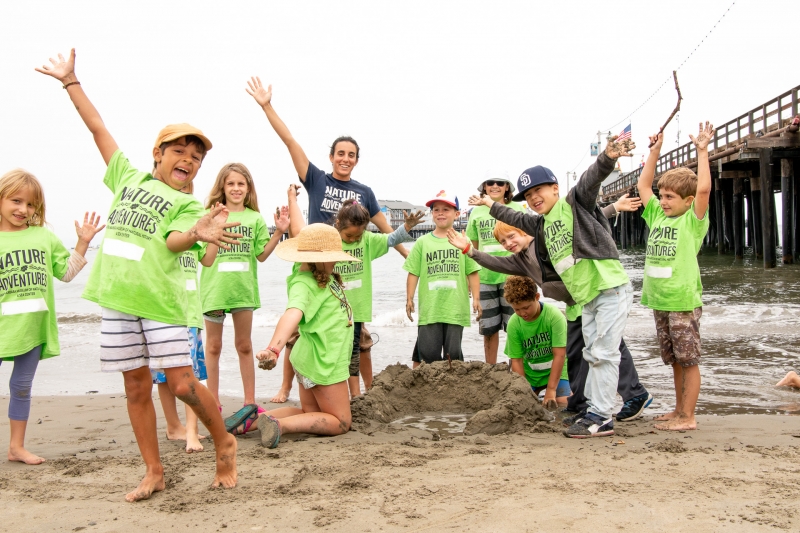 Our campuses are places for lifelong learning. Our education programs serve all ages to promote scientific literacy and instill a passion for nature. We put an emphasis on getting kids outdoors and encouraging learning through play, inquiry, and hands-on activities.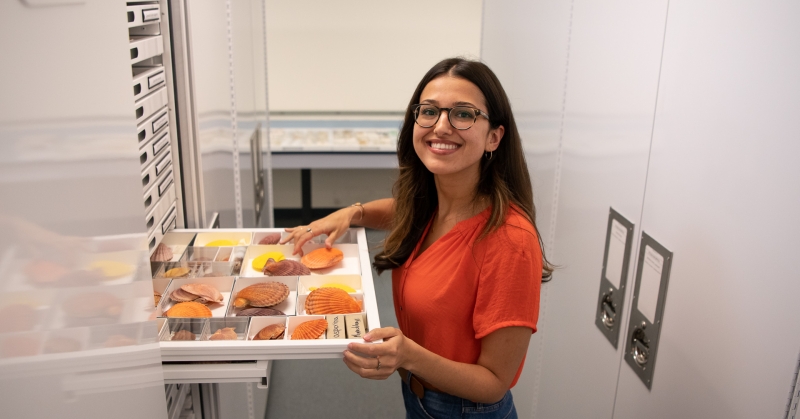 Collections are the foundation of our exhibits and education programs. They embody the natural and cultural heritage of our region, serving as a vast resource for researchers from all over the world. Our curatorial staff preserve the collections, facilitate access for researchers, and take an active part in our educational undertakings.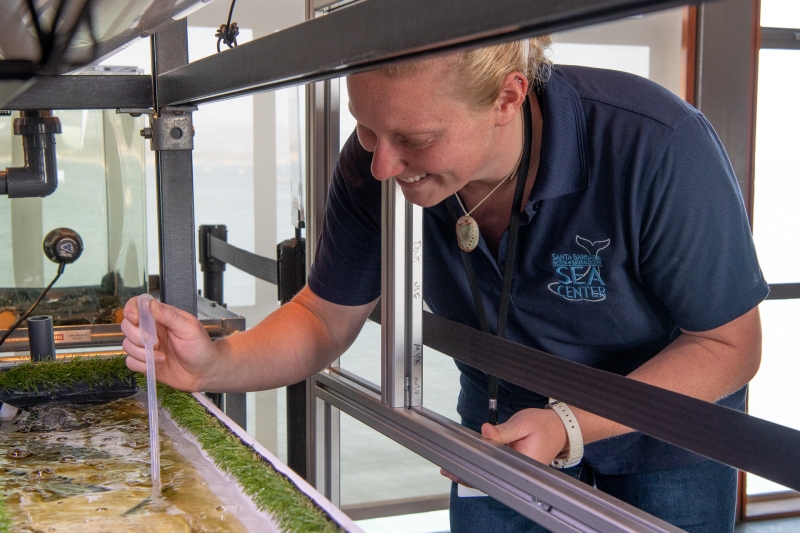 We actively participate in conservation and research. The Sea Center is proud to belong to the White Abalone Restoration Consortium, which works towards expanding scientific knowledge, increasing public awareness, and rebuilding sustainable populations of this endangered species.
We handle unusual objects and out-of-the-ordinary situations, but this is a safe place to work. Whether you're sanding the protective coating you've applied to a nine-foot-long whale rib, or working in the admissions office during a global pandemic, our administrative and facilities staff will help you get the protection you need.
We care about you and your family, so we offer benefits to support you and your loved ones in various stages of life. Full-time employees are eligible for generous benefits including a 403(b) retirement plan and health and disability insurance. All employees (including part-timers) enjoy free confidential counseling, bus passes for commuters, and—arguably best of all—free admission to 16 other amazing places in Santa Barbara county, including Santa Barbara Zoo, Lotusland, Santa Barbara Museum of Art, and our neighbors Mission Santa Barbara, Santa Barbara Botanic Garden, MOXI, and Santa Barbara Maritime Museum.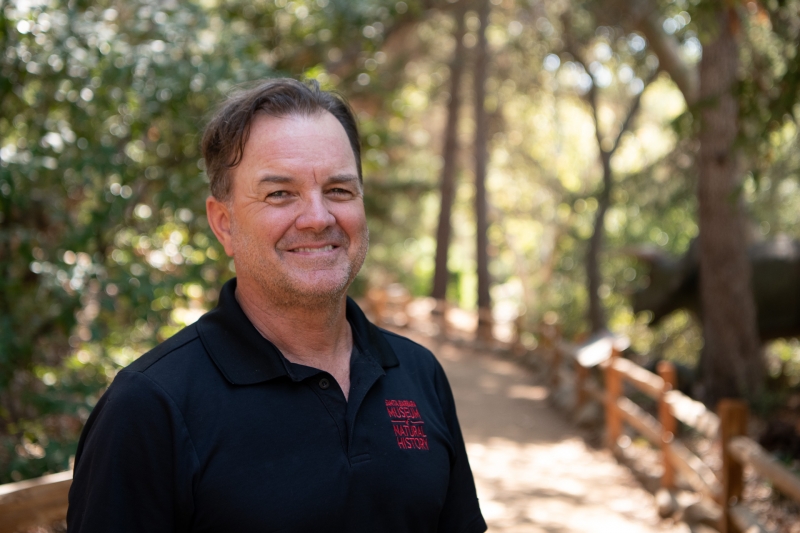 "I've loved every minute of my job here. Perks of the job: I see wonderfully cool things, like baby owls, hummingbird nests, a mantis eating the head of a moth. Nothing like being greeted first thing in the morning by a Monarch butterfly. Thank you nature!" –Groundskeeper Brent Flaaten (find him sharing an insider's view on Instagram @mynaturalhistorymuseumlife)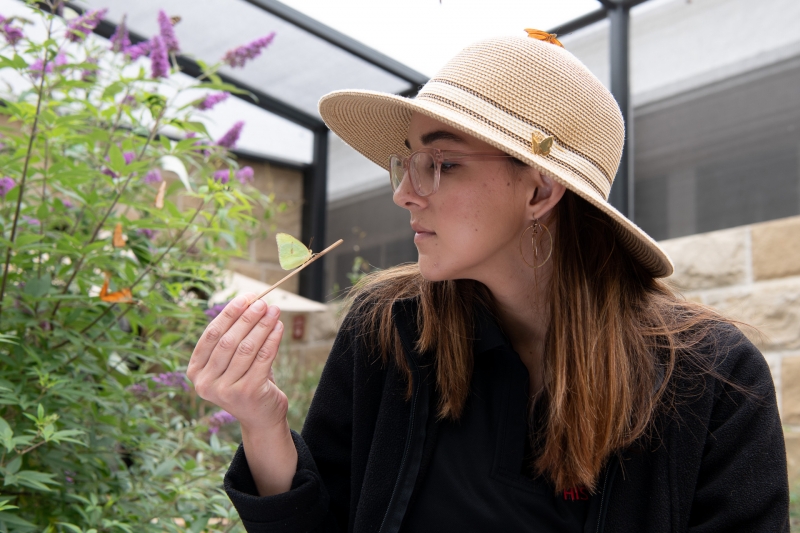 "I got my experience in customer service originally. When I came to the Museum, I wanted to fulfill my goal for college, which was to work for a nonprofit that was really making a difference in my community. At that time, Butterflies Alive! was hiring. I said, 'I can learn anything.' I've learned a lot by just being a sponge, being really flexible, and being curious . . . Being open to learning all sorts of different studies will get you farther, especially if you're working for a nonprofit."—Senior Manager of Guest Services & Butterfly Pavilion Manager Kim Zsembik (find her sharing an insider's view on Instagram @butterflywrangler)
Looking for volunteer opportunities instead? Visit this page to learn about our docent corps (below) and much more.