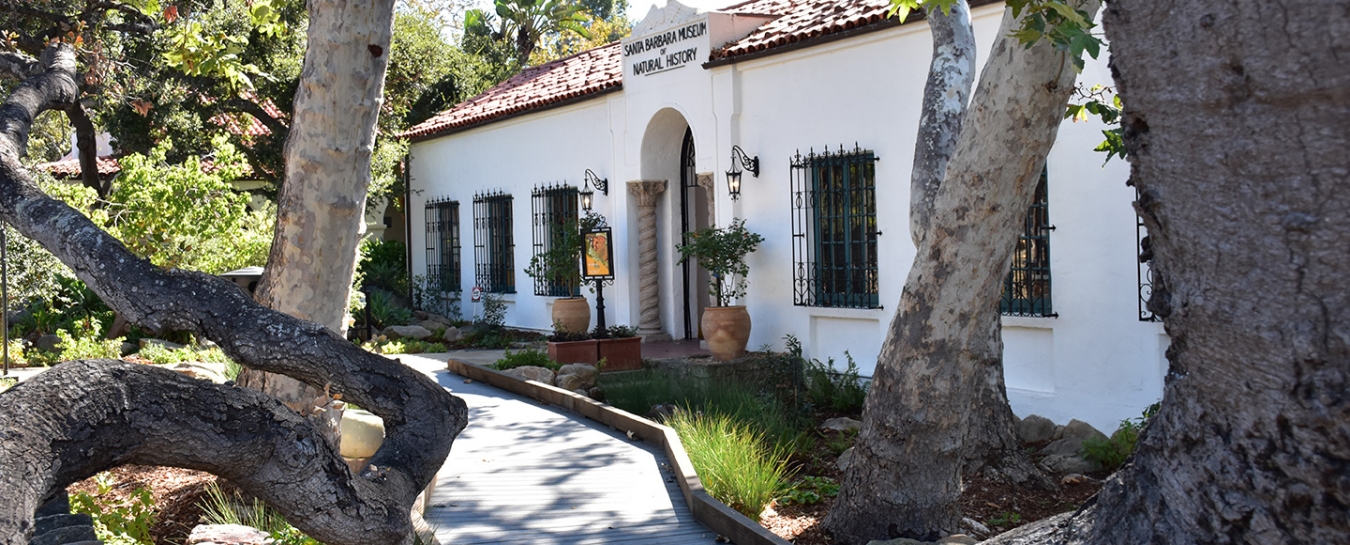 Accessibility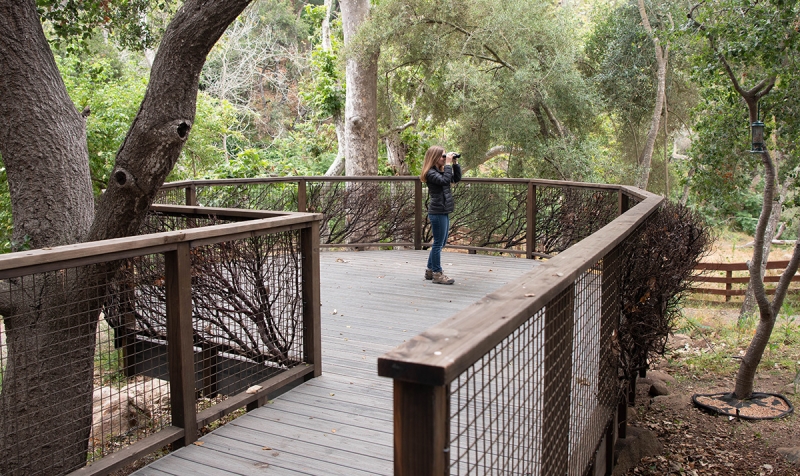 We want everyone to have a great time at the Museum and Sea Center, so we strive to make our programs, exhibitions, and facilities accessible for everyone by removing barriers, delivering a welcoming and relevant experience, and providing opportunities for meaningful engagement.
The Museum and Sea Center welcome guests, staff, volunteers, and visiting scholars regardless of race, religion, gender identification, sexual orientation, age, or disability status. We're dedicated to serving all parts of the global and local communities.
For more information, contact info@sbnature2.org or call 805-682-4711 ext. 100 (Museum) or 805-962-2526 ext. 100 (Sea Center).
Sea Center 
Accessible parking is available at the Sea Center on Stearns Wharf.
The Sea Center has two levels and an elevator. All exhibits are accessible for wheelchairs and strollers, however, the Sea Center does not have wheelchairs available for guest use.
Museum
ADA Accessible Pathways and Restrooms
Renovations in 2018 have made the Museum more accessible than ever to those with physical disabilities. Most exhibits at the Museum are accessible for wheelchairs and strollers, with the exception of Farrand Auditorium, Space Lab, and Gladwin Planetarium. Strollers are not allowed inside the Butterfly Pavilion. 
Accessible pathways for wheelchairs and strollers are indicated on the map in blue. All restrooms have accessible facilities and are indicated on the map by a wheelchair symbol.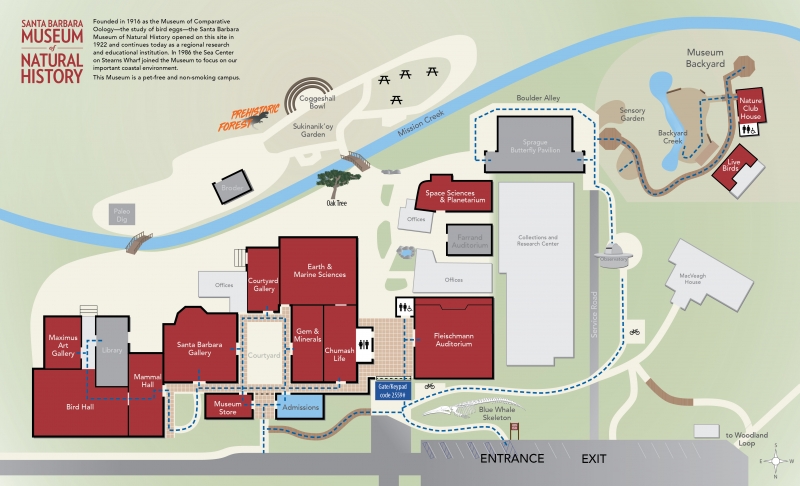 Download our ADA Accessible Map. 
All-Gender Restroom
The ADA-accessible single-use restroom for our guests is also an all-gender restroom. It is located at the front of Fleischmann Auditorium, across from the gendered restrooms. Look for the restroom and wheelchair symbols together on the map, and ask staff if you'd like assistance finding it.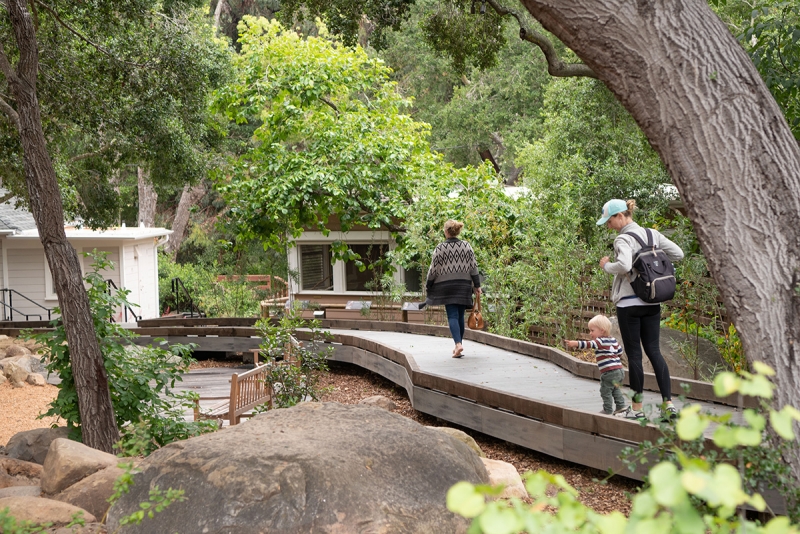 Wheelchair Rental
Manual wheelchairs are available for guest use at no cost on a first-come, first-served basis in the Admissions Office. Guests are asked to leave a valid ID or collateral upon check-out. ID/Collateral is given back to the guest when the wheelchair is checked back in.
Jill's Cart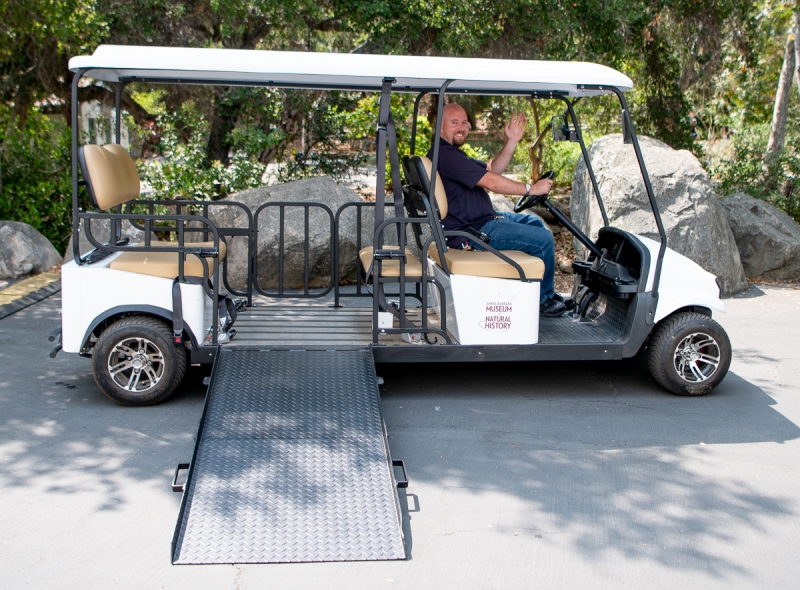 To help all our guests access outdoor exhibits—including those in areas with uneven ground—we have Jill's Cart, an electric cart with a wheelchair lift. If a wheelchair user is riding, there's room for one other passenger sitting next to the driver. Please call the Museum at 805-682-4711 ext. 100 well before your visit to request Jill's Cart, so a Museum driver can have it ready for you.
Parking
Accessible parking spots are located in front of the Blue Whale Skeleton in the Museum's parking lot. The parking spots are next to an accessible pathway to the Admissions Office. Guests may also use the drop-off area along Puesta del Sol to shorten the distance from the parking lot to the Museum entrance. 
Service Animals Policy
In order to provide a secure and healthy environment for our guests, as well as to protect our collections, we can only allow trained service animals on Museum property. A service animal is one that is trained to work or perform tasks for a person with a disability. Guests with service animals must agree to:
Have their animal on a six-foot or shorter leash. No retractable leashes allowed.
Observe live birds of prey (Eyes in the Sky) from a distance of 25 feet. Please do not approach live birds with your animal.
Carry small animals while in the Butterfly Pavilion to avoid accidents with butterflies or other guests.
Be aware that some Museum guests are afraid of or allergic to animals.
Pick up after their service animal.
Leave Museum property if their animal misbehaves. 
Personal Care Assistant
A paid personal care assistant (PCA) accompanying a guest with a severe disability receives free admission.

Sensory Backpacks
ROARRR! Bzzzz! We know the museum can be an overstimulating place sometimes, which is why we are pleased to offer Sensory Backpacks for visitors who might want to use their senses to help ground themselves as they explore. These backpacks feature noise-cancelling headphones, sorting and matching activities, stress toys, and a sensory searching game. They also contain a handy guide to high and low sensory spaces on the museum campus and are weighted to help provide focus and comfort. To check out a Sensory Backpack, head to the Nature Clubhouse in the Museum Backyard where a naturalist will securely keep keys or an ID for the duration of your exploration. Enjoy your sensory adventure!
Groups Needing Special Accommodations
The Museum partners with organizations that serve a variety of audiences and populations. If there are special accommodations that the Museum can make to enhance accessibility for your group, please contact info@sbnature2.org or call 805-682-4711 ext. 100 during open hours.