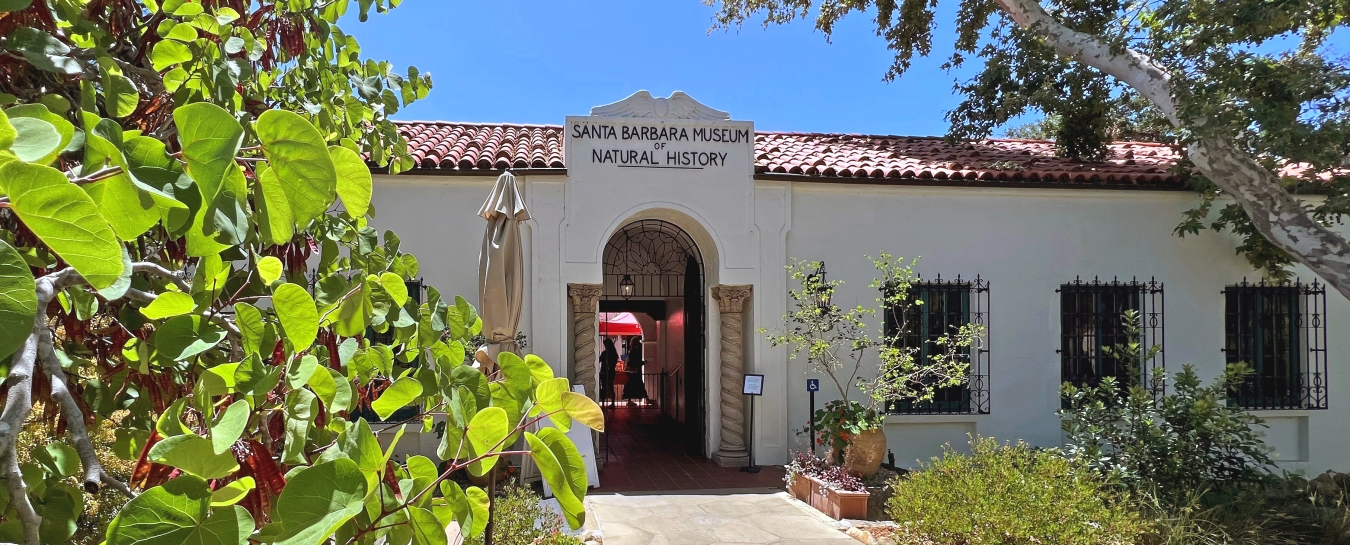 About the Museum
Explore the links below to learn more about the Museum and Sea Center's core values, practices, and commitments.
About the Museum | About the Sea Center
Mission and Vision | Guest Experience Manifesto
Statement on Climate Change | Commitment to Sustainable Practices
Commitment to Responsible Investing | History
Collections | Statement on Repatriation
Funding | Institutional Memberships
About the Museum
Founded in 1916 as the Museum of Comparative Oology, the Santa Barbara Museum of Natural History has evolved to include more than 3.5 million specimens covering every aspect of natural history—from mammals, birds, and marine life to geology, astronomy, paleontology, and anthropology. Newly renovated in 2018, the Museum boasts state-of-the-art interactive exhibits for all ages, paired with the Central Coast's only planetarium, on 17 acres of oak woodland along Mission Creek. Guests learn about the Santa Barbara region's unique and diverse natural history and then go outside to explore nature in the Museum Backyard. Museum education programs serve all ages to promote scientific literacy and instill a passion for nature and learning.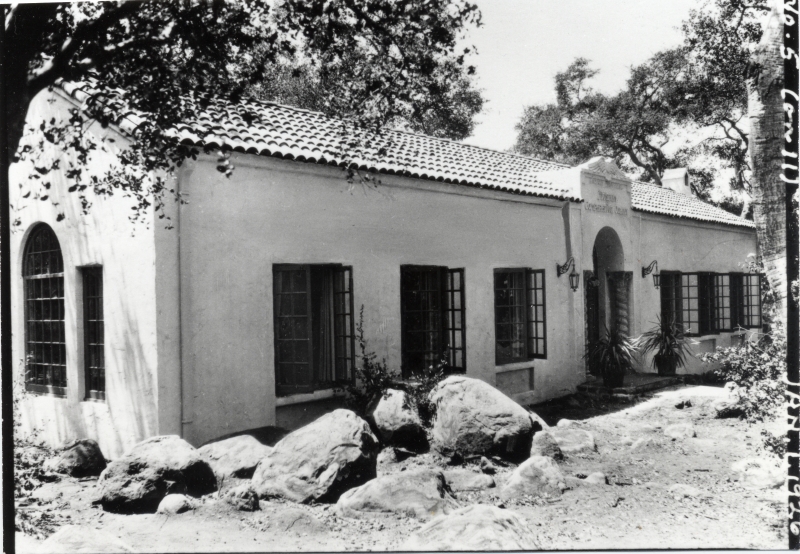 About the Sea Center
In 1986, the Santa Barbara Museum of Natural History opened the Sea Center on historic Stearns Wharf to communicate the biodiversity and ecological importance of the regional ocean environment. This small aquarium and marine education facility offers guests hands-on encounters with life from the Santa Barbara Channel, including Swell Sharks, rays, sea stars, sea urchins, and anemones. On the Wet Deck, guests experiment like scientists by using oceanographic tools to sample the ocean and examine life below. Upstairs, guests can view mesmerizing jellies, Decorator Crabs, a California Two-Spot Octopus, soft corals, and other animals found in nearby waters. Life-size replicas of a Gray Whale mother and her calf preside over an unparalleled view of the coast towards East Beach, Montecito, and the spectacular Santa Ynez Mountains.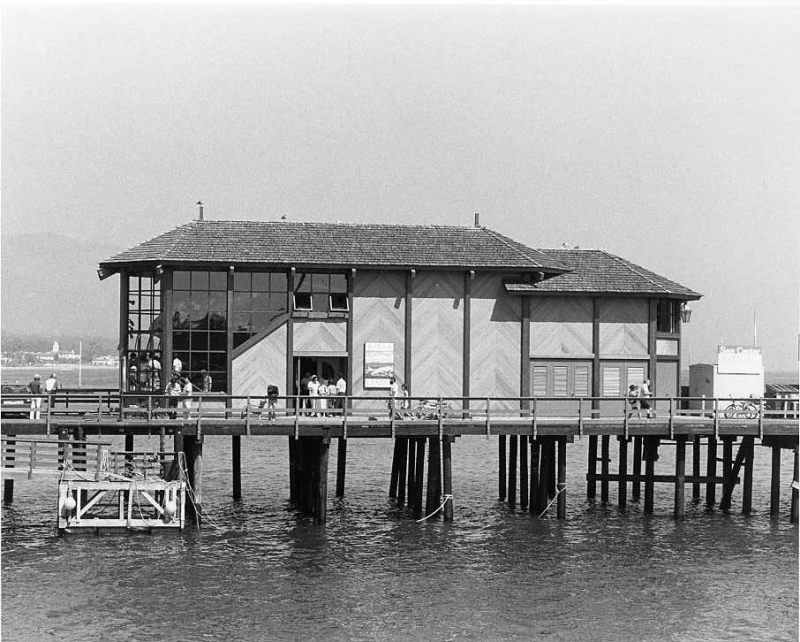 Mission
The Santa Barbara Museum of Natural History inspires a thirst for discovery and a passion for the natural world.
Vision
The Santa Barbara Museum of Natural History seeks to connect people to nature for the betterment of both.
Guest Experience Manifesto
We're not your typical structured museum with stiff curators, cold halls, and strict rules. We like to go outside and get our hands dirty, pick things up and take a closer look, laugh, skip, or maybe even jump for joy. Because learning is messy and we all learn by doing, not sitting. That's why we offer a different approach to discovering the natural world: one where you're free to wander, ask "silly" questions, and explore on your own terms. And when you come here you'll see we're a museum unlike anything else. In a nutshell, we're naturally different.
Statement on Climate Change
"As one of the leading scientific institutions on the Central Coast, the Museum's job is to educate our community about the causes and consequences of the dynamic and dramatic changes we are witnessing in our climate both locally and globally. We know that our future survival depends on our willingness to embrace changes that can mitigate the damage caused by the many ways we have negatively impacted the environment we share with all living things." – Luke J. Swetland, President & CEO
Commitment to Sustainable Practices
We take our responsibility to protect and conserve resources seriously. Learn more about our sustainable practices.
Commitment to Responsible Investing
On June 28, 2022, The Museum's Board of Trustees directed its investment managers to utilize Environmental, Social, and Governance (ESG) metrics to ensure that the portfolio reflects investment in companies that are best in class and that themselves practice sustainable and environmentally friendly business practices.
We believe investing in companies that manage themselves well, and that do their utmost to minimize their impacts on the environment are an important extension of our mission and the impact for good that the Museum can have for our environment and for our human well‐being. Read the full statement.
History
The Museum was founded in 1916 by William Leon Dawson as the Museum of Comparative Oology. In 1923, thanks to Miss Caroline Hazard and Mrs. Rowland Gibson Hazard, the Santa Barbara Museum of Natural History opened its doors at the current campus. In 1986, the Museum added the Sea Center on Stearns Wharf as an off-campus facility focused specifically on our regional coastal and ocean environment.
Collections
We preserve extensive natural history collections of approximately 3.5 million objects used for research by a staff of 11 curators as well as visiting scientists from around the world. These invaluable and irreplaceable collections embody the natural heritage of our region. They are in part the results of research by Museum scientists and in turn serve as a vast research archive for ongoing investigations.

Our researchers are active in disciplines ranging from anthropology to zoology. Every year, they discover and describe new life forms (species), investigate past and current changes in our natural environment, and assist in projects of environmental conservation and restoration. They also study changes in human society and cultures in our region over thousands of years and their changing relationships with the environment. Often, this work is pursued in collaboration with other scientific, governmental organizations, or private sector agencies.
The expertise of the Museum's scientific staff underpins and supports all of our educational efforts; curators themselves take an active part in an array of educational programs.
Statement on Repatriation
The Museum is committed to going above and beyond the legal requirements of the Native American Graves Protection and Repatriation Act (NAGPRA), engaging with tribes throughout California and beyond, to return all Native American ancestors and their associated funerary objects to their source communities.
For more information on repatriation or to contact one of our curators, click here.
Funding
The Museum is a private, 501(c)3 nonprofit organization that relies on a variety of funding sources which enable us to share our collections, exhibits, and education program with thousands of visitors, school children, and scientists each year.
Membership 
The Santa Barbara Museum of Natural History is a member of the Association of Science-Technology Centers, American Alliance of Museums, California Association of Museums, and 1% for the Planet.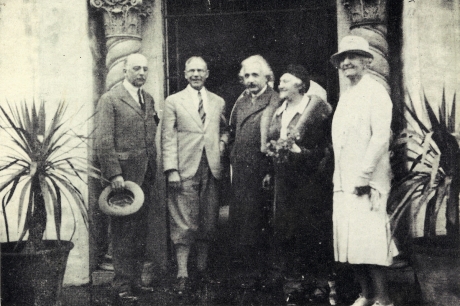 Albert Einstein visited the Museum in 1931 and shared, "I can see that this Museum has been built by the work of love."