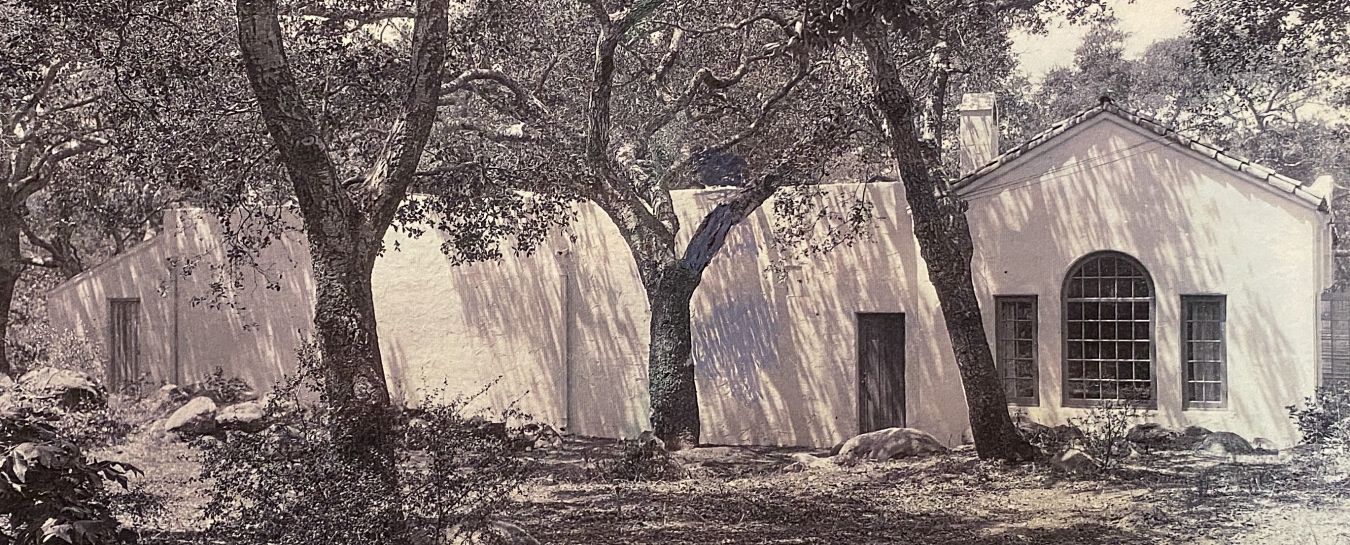 April 15, 2022 / 8:38 AM
100 Years on Mission Creek
We keep turning 100.
If you recall how we celebrated the centennial of the Museum's 1916 incorporation several years ago, you may be excused for thinking we would like to wishfully stay forever 100. But this spring marks 100 years since another major milestone: the establishment of our campus here beside Mission Creek. Keep reading for a trip down memory lane, for which I am indebted to Museum Librarian Terri Sheridan and our Museum Archives.
Our founder William Leon Dawson started the egg from which this institution would hatch: the Museum of Comparative Oology (study of eggs). It began at Dawson's home, just a few blocks away from where we are located today. Dawson lived at Los Colibrís (Spanish for the hummingbirds), a property on Puesta del Sol equipped with a stronghold dubbed "the Iron Nest," which protected his valuable collection of eggs and nests. As a committed oologist, Dawson believed strongly in the importance of eggs to illuminate the relationships between different kinds of birds. He was also an all-round bird-lover who attracted a stream of egg collectors and bird enthusiasts to visit and build his home collection.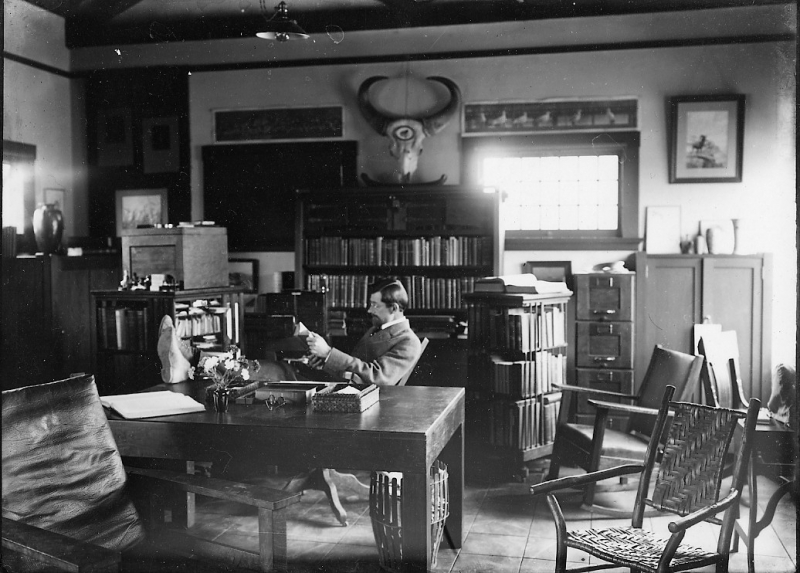 The 1916 incorporation of the Museum brought significant donations, greater legitimacy, and regular hours to Dawson's endeavors. The growth highlighted the new institution's need for space. Dawson wrote in a local newspaper: "There is hardly room left for a wren's egg in our crowded quarters." Inviting the general public to a meeting of the Santa Barbara Bird Club, he trumpeted: "You are all cordially invited to attend. 'All' means not only club members and their friends, but bird-lovers of every description, as well as novelty-hunters who are willing to try anything once." Yet he lamented, "Now that we think of it, the museum will only hold forty people at one time. What a shame we hav'n't a larger building!"
Fellow egg-collector and bird-lover Rowland Gibson Hazard II had contributed a significant boost to the Museum of Comparative Oology, donating a large personal collection that included rare items like an egg from the extinct giant Elephant Bird of Madagascar. Hazard had planned to help Dawson build more storage capacity, but died unexpectedly in 1918. American involvement in WWI caused the museum to defer some of its activities, including construction.
Hazard's sister, Caroline Hazard (a forceful administrator and former president of Wellesley College) stepped into Rowland's place on the board. In 1922, she announced her gift of land to the Museum in his memory, and Mr. Hazard's widow Mary expressed her intention to pay for the construction of purpose-built facilities on that land. The new Museum would be tucked right under the Hazard family's wing, downhill from Mary's home at Dial House on Mission Hill.
Mary worked with architect Floyd Brewster to design a complex in the Spanish Colonial style, featuring a red tile roof, white stucco walls, picturesque arches, and heavy, textured woodwork. These choices were part of a movement to emphasize local beauty and character with romanticized architectural nods to California's history. Though region-wide, support was particularly strong in Santa Barbara, particularly in the social sphere of the Museum's trustees.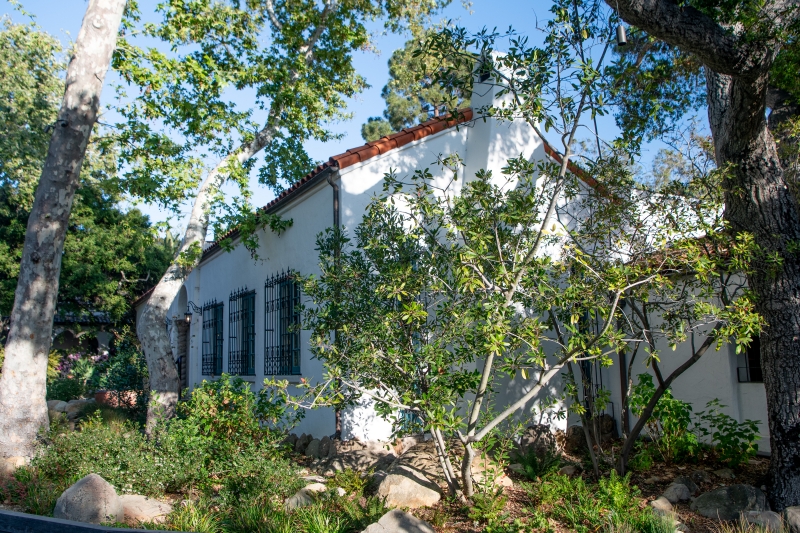 During a ceremony in mid-April 1922, the Museum's original courtyard complex was unveiled and dedicated to Mr. Hazard's memory. It included a boardroom which is today's Admissions Office; the old fireplace and Mission-style conference table are still there. Gem & Minerals was home to a little hall known as Bird Habitat Groups, containing our first dioramas. Their backgrounds were painted by noted artists including Fernand Lungren and Carl Oscar Borg. The lower level of Santa Barbara Gallery housed collections spaces that doubled as exhibits, and the Museum Store was the director's office.
The complex was designed to fit both the community's emerging sense of identity and the nature that surrounded it. The courtyard at its heart accommodated a handful of mature oak trees, one of which still survives. The fact that the Hazards' memorial gift was intended both as a museum and a bird refuge is reflected in the memorial plaque over the courtyard fountain, which refers to "this building and this wood" (emphasis mine). Looking at the few historic photos that remain from that time, it's heartening to see how new trees have sprung up, as well as new buildings. Our campus remains a superb place to observe many bird species.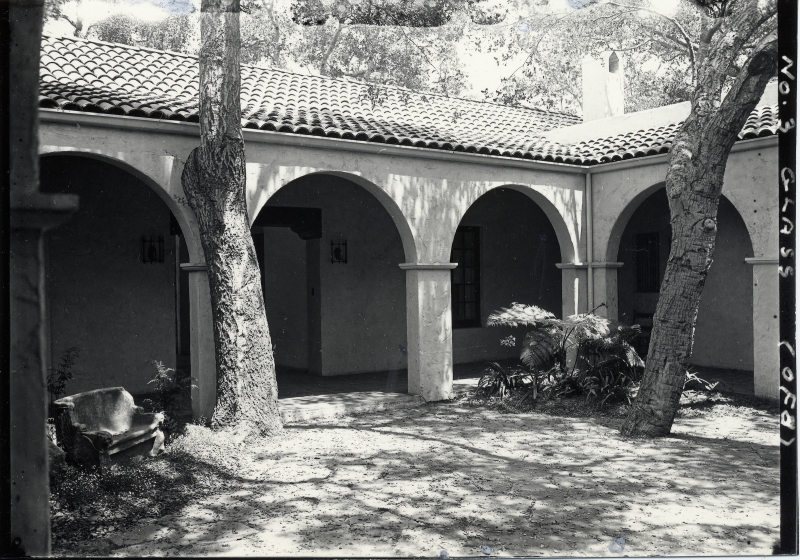 The generosity of the Hazards greatly expanded the Museum's ability to serve as both a scientific and educational resource. Their gifts ultimately provided room to grow beyond oology into a fully-fledged natural history institution. But they were just the beginning of a history of investment by our community that continues to this day.
We hope to be celebrating 100-year anniversaries for hundreds of years to come. Thank you for indulging me in celebrating one so hard on the heels of another.