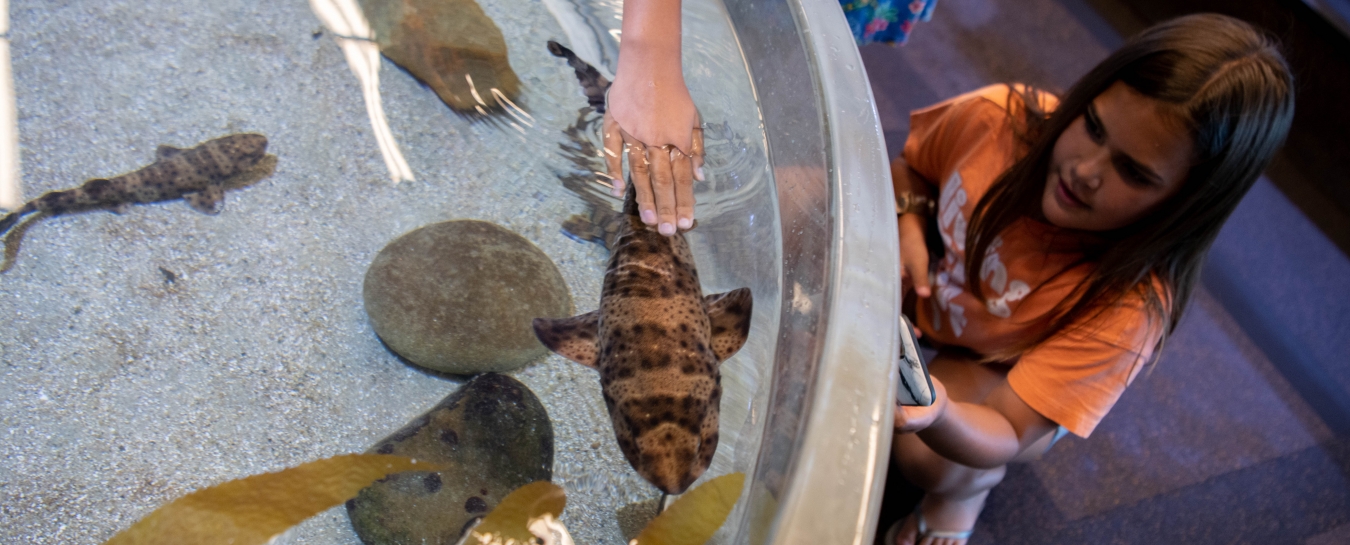 Sea Center Group Visits
Hello! We are delighted to be able to welcome prearranged group visits to the Sea Center this summer. We are not able to offer group discounts at this time, but if you are interested in bringing a group to the Sea Center (15 visitors at a time), you will need to make a reservation with our bookings coordinator no less than two (2) weeks before your planned visit. Request a group visit here, or email seacenterbookings@sbnature2.org.
No groups will be admitted without a reservation.
What is a "group"?
The Sea Center is a fun interactive space to learn about our local marine ecologies, but it is a relatively small public space with limited staff. Because of this, we are not able to accommodate large groups at any one time. A group is defined as:
15 individuals

If this group is a children's group, there MUST be one (1) adult for every five (5) children. These adults are counted toward the total of 15. 

Note: We may be able to accommodate groups of up to 30 individuals IF you are able to split the group and stagger entry to no more than 15 at a time. For example, one group of 15 would enter at 10:00 AM and leave at noon, then the next group could enter. You would arrange this staggered entry at the time of booking. 
How much is admission for groups?
This summer, Sea Center group admissions are the same price as individual admissions.
Adult (18–64 years) $14
Senior (65+ years) $12
Teen (13–17 years) $12
Child (2–12 years) $11
Child under 2 years Free
SNAP/Cal Fresh $3*
(for up to 4 people/visit)
When do I pay admission?
Group visits must be arranged and paid in full at least 2 weeks prior to the visit date.
Request a group visit here.
No groups will be able to purchase admission on the day of their visit.
Is there parking available for groups?
If you plan to arrive by bus:
Bus drop-off is at the Chase Palm Park parking lot, located at the intersection of Garden Street and Cabrillo Boulevard (right next to the skate park along the water). After drop off, the bus driver may park in the designated bus parking area on the north side of Cabrillo Boulevard. 

NOTE: Buses are not allowed to enter the dolphin statue roundabout at the south end of State Street or drive onto Stearns Wharf. 
After disembarking from your bus, you can walk your group up to the entrance to Stearns Wharf at the end of State Street. The boardwalk promenade will take you to the Sea Center. A Sea Center staff member will greet you at the entrance to the Sea Center at your prearranged arrival time. This walk can take as much as 15–20 minutes, so please plan to arrive at least 20 minutes ahead of time to arrive for your scheduled visit. 
If you arrive by car: 

You can either park on the wharf (Stearns Wharf provides free parking for the first 90 minutes and charges $2.50/hr. for any additional time)
or
You can park in  Chase Palm Park parking lot at Cabrillo Blvd and Garden Street. If you park in Chase Palm Park parking lot, walk up Stearns Wharf to the Sea Center and gather your group at the entrance. Our staff will greet you and provide further instruction. Again, if you park off of the wharf, plan to arrive at least 15–20 minutes ahead of time to reach the Sea Center at the time of your prearranged visit. 
What if my group requires special accommodations?
We are committed to providing an accessible, enjoyable experience for all visitors at the Sea Center. When you contact our bookings coordinator to plan your visit, please describe the accommodations you may need and we will do our best to work with you to meet them.
I have questions about making a reservation for my group. Who should I contact?
We will be happy to answer any questions you have about bringing a group to the Sea Center. Please email seacenterbookings@sbnature2.org or call 805-962-2526 ext. 108 to reach our Sea Center bookings coordinator.