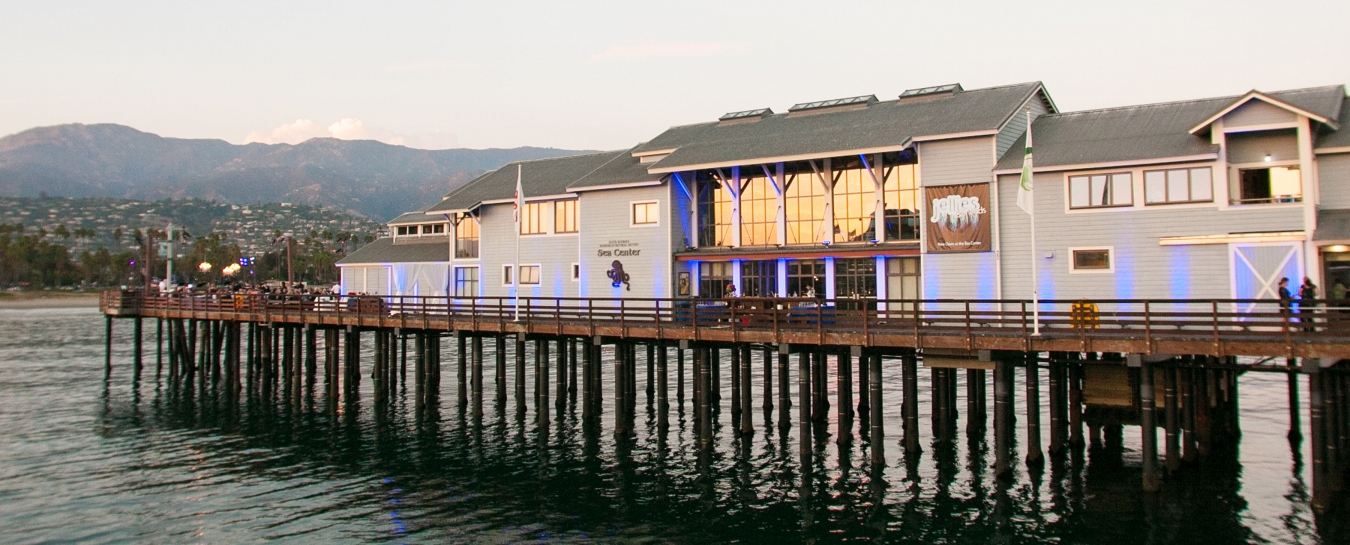 Sea Center
The Sea Center on Stearns Wharf is available for rentals starting June 2022.
Rental Options:
Lobby and upper loggia
Entire facility with unstaffed exhibits
Entire facility with exhibits fully staffed
Capacity:
Indoor standing event or cocktail reception up to 200 persons
Indoor seated event up to 75 persons when seating 40–60 downstairs in Entry Hall (lobby areas) and 10–15 seated upstairs on Marine Mammal Mezzanine (upper loggia)
Out of Doors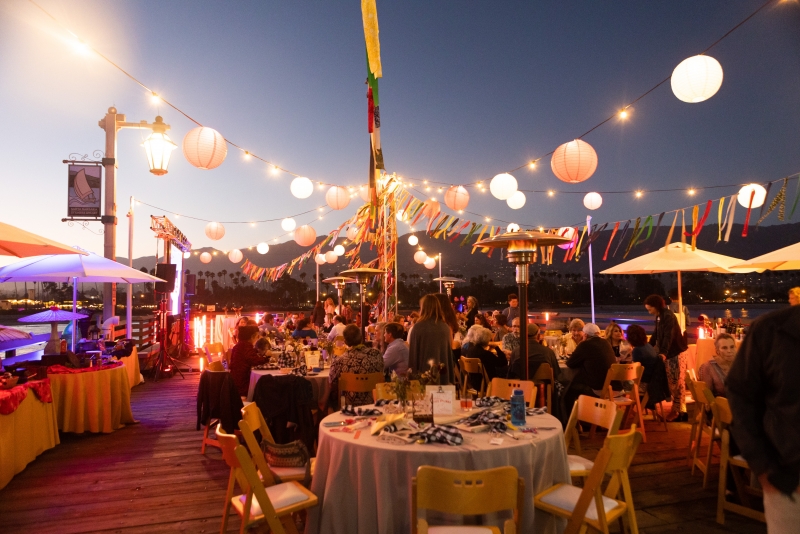 Northward Finger
The large exterior of the Sea Center extending to the end of the northward finger is owned by the City of Santa Barbara. Although a permit is needed to use this area, the City is very accommodating in granting such usage. Our Operations Manager assists clients in obtaining permission. This area is large enough for 150 guests for an outdoor ceremony and/or dining and dancing. Although not necessary, this area can be tented. We refer clients interested in tenting to contact Bright Event Rentals at 805-566-3566 or sales-sb@bright.com for further tenting information.
East Corridor
This outdoor area along the wall of the Sea Center is ideal for guests to linger and gaze at the shoreline extending 30 miles south. Part of this corridor is often separated by caterers for a temporary kitchen.
Indoors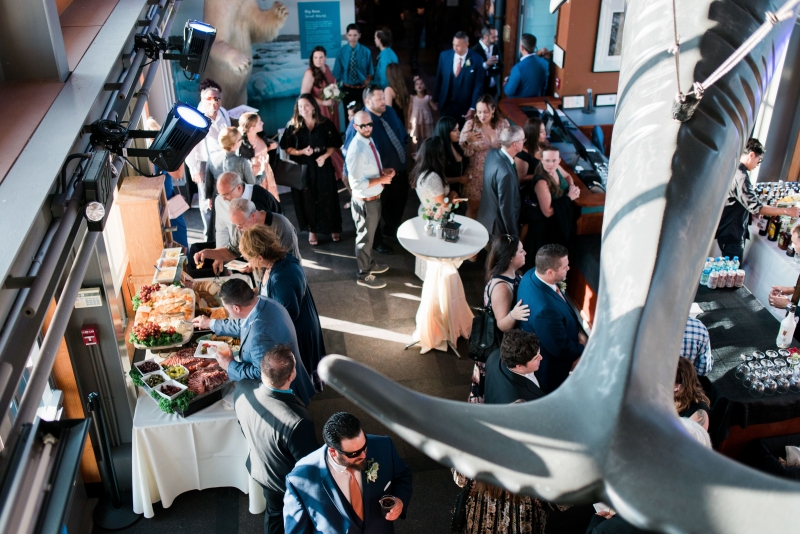 Lobby/Entrance Hall
As your guests enter our Center, the first stop is our lobby. The ceiling extends to the second floor with our Gray Whale mobiles hanging in open space. Most furniture in this lobby is removable, creating room enough for 50 people seated auditorium style. We recommend the lobby to be used for the first hour of the reception incorporating the upper loggia. It can also accommodate a sit-down dinner for 40–60 people, an additional 10–15 persons may be seated upstairs when incorporating the upper loggia.
Upper Loggia/Marine Mammal Mezzanine
Accessible by two separate stairways or by elevator, the loggia wraps around the Sea Center with stunning eastward views of the mountains, shoreline, and ocean. Ideal for first-hour receptions and cocktails receptions.
Limitations:
Events may begin after 5:30 PM, outdoor set-up may begin earlier.
Limited outdoor use permitted
No smoking, confetti, live or dried animals, seashells, or open flames.
Reservations:
Renting the Santa Barbara Museum of Natural History's Sea Center directly helps our mission to inspire a thirst for discovery and a passion for the natural world. The rental fee for both the interior and exterior area is $5,000, with a refundable $500 security deposit. This rental fee includes event hours from 5:30 – 10:00pm, with four hours of set-up immediately before and two hours of break down immediately following. This fee also includes exhibits staffing for one hour. To reserve your event, we request a deposit of $3,000, which is equal to 50% of the venue fee and the security deposit. The remaining $2,500 deposit is due 30 days prior to your event.
Logistics:
Please note that for all facility rentals, a certificate of liability insurance for $1,000,000 must be provided as well as a signed rental agreement in order to confirm your event. If you wish to cancel the agreement, for any reason, no refunds will be made. In addition, per City of Santa Barbara rules, the client must use a shuttle service from Cabrillo Boulevard to the Sea Center on Stears Wharf. We can assist in arranging for this service.
For more information, please contact our operations manager at SCEvents@sbnature2.org or 805-962-2526 ext. 111.
Testimonial
"My sister had her wedding here and it was beautiful! Views from the pier and a great party atmosphere inside. I even learned a thing or two about mantis shrimp during the reception." September 2019