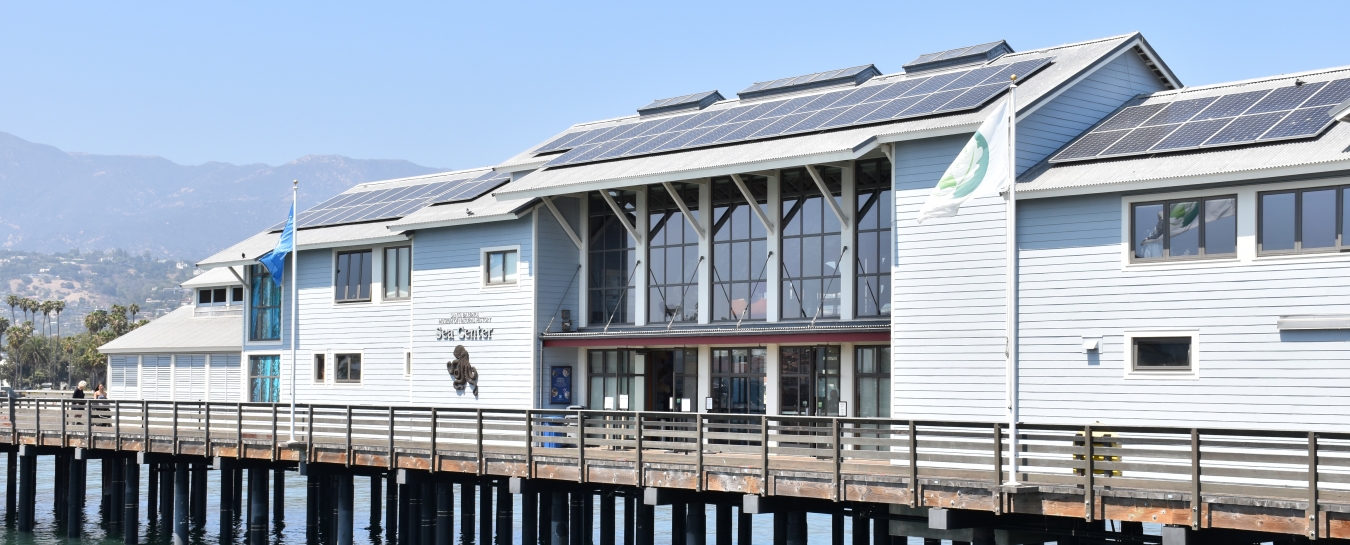 Sea Center
The Sea Center on Stearns Wharf is available for rentals starting June 2022.
Description: One-of-a-kind location for evening receptions, weddings, meetings, cocktail parties, and dinners. Santa Barbara Museum of Natural History Sea Center invites you and your guests to enjoy our unique setting and breathtaking views. As your guests arrive at the soaring, light-filled Reception Hall with its two-story walls of glass and lifesize California gray whale models, they will know this is a truly special event.
Whether you are planning a wedding, cocktail party, formal dinner, reception, awards ceremony, or evening meeting, we invite you to experience the unforgettable, contemporary beauty of the Sea Center. Perfectly suited for groups of 10 to 200 people, the Sea Center is a unique location for your special event.

Ambiance: Unlike any other location in Santa Barbara, with beautiful ocean, harbor, beach, and mountain views. Located on historic Stearns Wharf. Gorgeous ocean views abound at the Sea Center. The east side of the Reception Hall looks down the coast towards East Beach, Montecito, and the spectacular Santa Ynez Mountains. The west side looks out toward the sunset and Santa Barbara's picturesque harbor.
Rental Options:
Indoor areas only (entrance hall, Marine Mammal Mezzanine, and unstaffed exhibits)
Entire facility including adjacent outdoor pier area
Capacity:
Indoor seated event (e.g., dinner, presentations, etc.) up to 60 people
Indoor standing event (e.g., cocktail party) up to 150 people
Outdoor area can accommodate up to 150 people for a seated dinner reception or 200 people for a cocktail reception
Facilities:
Theatre with projector and screen (seating for 25)
Restrooms
Electrical outlets
Internet Access: Yes
Parking:
Available in nearby public parking lots
Limitations:
No smoking, balloons, confetti, or open flames.
Events can only begin after 5:30 PM (Sea Center closes to the public at 5:00 PM).
For more information, please contact Jose Lobato at SCEvents@sbnature2.org or 805-962-2526 ext. 111.
Testimonial
"My sister had her wedding here and it was beautiful! Views from the pier and a great party atmosphere inside. I even learned a thing or two about mantis shrimp during the reception." September 2019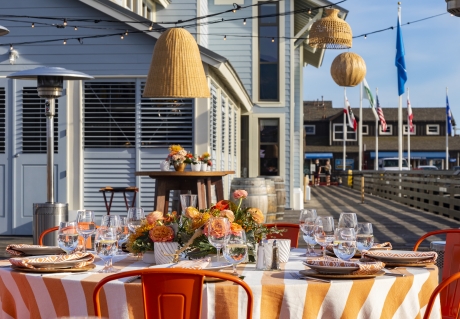 Photo by Releve Unlimited