March 26, 2021 / 2:56 PM
Butterflies, Dinosaurs, and Everything in Between: My Journey in the Quasars Program
I swing my legs under the tall desk and lean closer to my paper. My chair creaks slightly as I turn it gently to the side. I squint at the slideshow on the screen, full of pictures and diagrams. The breeze outside causes the tree branches to stir. I glance around the room, full of interesting things. Posters and dioramas from previous classes, proclaiming the costs of the melting ice sheets and the successes Gray Wolves brought back to Yellowstone National Park. In the back of the room, rows of atom models hang, made with everything from leaves to Legos. Underneath the models a display case holds amazing specimens, including turtle skeletons, fossils, and horseshoe crab exoskeletons. In the front, high on the shelves, a taxidermied falcon spreads its wings. I focus back on the paper in front of me. It holds the secrets of the natural world, with diagrams on rock layers, magma, faulting, fossilization, and more. Secrets that took generations to uncover. And as I sat in my seventh grade science classroom, I dreamed of the day when I would be the one to make the discoveries.
That was only two years ago, and now I am on the road to fulfilling my dreams. I am a first-year in the Quasars to Sea Stars program at the Santa Barbara Museum of Natural History, and I am learning new things every time I complete a shift. From hearing stories of the juvenile praying mantises that were found in the Sprague Butterfly Pavilion, to researching museum budgets and administration, to building confidence, to grammar and writing skills, this program is teaching me everything. I haven't even spent a year here, and already this amazing community has taught me as much as I have ever learned in a classroom. I have three more years to look forward to, and many things I want to accomplish.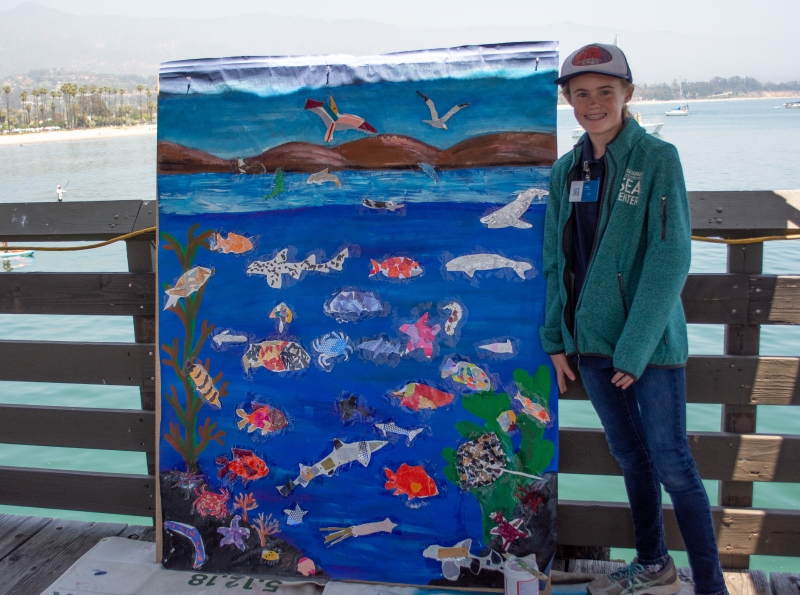 As a nature-obsessed almost seventh grader, I began volunteering at the Sea Center. It was through this that I was handed a poster about the Museum's Teen Programs, including VolunTEENS, CITs (Counselors in Training), and Quasars to Sea Stars. At the time, I was only old enough to apply for the VolunTEENS program, and I had a whirlwind of a summer. Not only did I continue to conquer my fear of public speaking by giving dinosaur tours to enthusiastic kindergarteners, I also got to volunteer in the serene Butterfly Pavilion.
It was then that I met the museum's quasars: young people in the multi-year work/study/intern program Quasars to Sea Stars. I was in awe. Not only were they completely comfortable with their surroundings, they were also jam-packed with cool facts about everything. They guided me, as well as the other VolunTEENS, into eventually learning how to tour people around the Museum by ourselves, and have fun while we were doing it. I then decided that I was going to become a quasar. After researching more, I came across a well-put-together video made by the quasars themselves. That was it. I was going to be a quasar, no matter how much time it took.
I spent months working on my application and dreamily looking through the website in my free time. Right after I submitted my application, the pandemic hit. Everything was thrown out of whack, and the quasars program had to adjust. Eventually, good news came in the form of an email that gave me a Zoom link for an interview.
I don't understand why people call it "butterflies in your stomach." That day, I had dragonflies in my stomach. I don't know how I convinced myself to click on that Zoom link, but I did, and as the interview continued on, I gradually grew less nervous. Teen Programs Manager Jenna Rolle, M.S., and Teen Programs Hearst Intern Charlie Thrift were welcoming and didn't put pressure on me. They helped me get through the interview, and I managed to not faint a week later when I got the magical call. Jenna called each individual new quasar to give them the good news. I was ecstatic. It was probably one of the best moments of my entire life.
I was welcomed with open arms by everyone in Teen Programs, but my time in the Quasars to Sea Stars program has been somewhat stunted. I joined the program in the midst of the pandemic. My interview and final presentation were over Zoom, and I have yet to see another quasar in person without a mask. Don't get me wrong, quasars is still one of the best parts about my life, and the most amazing thing that I have ever been a part of, but COVID-19 has taken away a little of the magic. Luckily, this pandemic will not last forever, and I look forward to a time when I will get to take part in all of the activities that my predecessors have experienced. This includes the quasar trips.
Imagine yourself on a beautiful bluff, overlooking rolling hills and turquoise ocean waters. Now imagine that you are there with about a dozen other teenagers, who are, like you, completely obsessed with science and nature. A few days ago you were strangers, but now it feels like you've known them your entire life. You laugh, learn, mess up, hike, and enjoy being miles away from home with them. Here, worlds away from your regular life, you get hands-on experience with the history, present, and future of science. From taking beach samples to listening to a talk on astronomy, you can gain experience in anything and everything that catches your interest.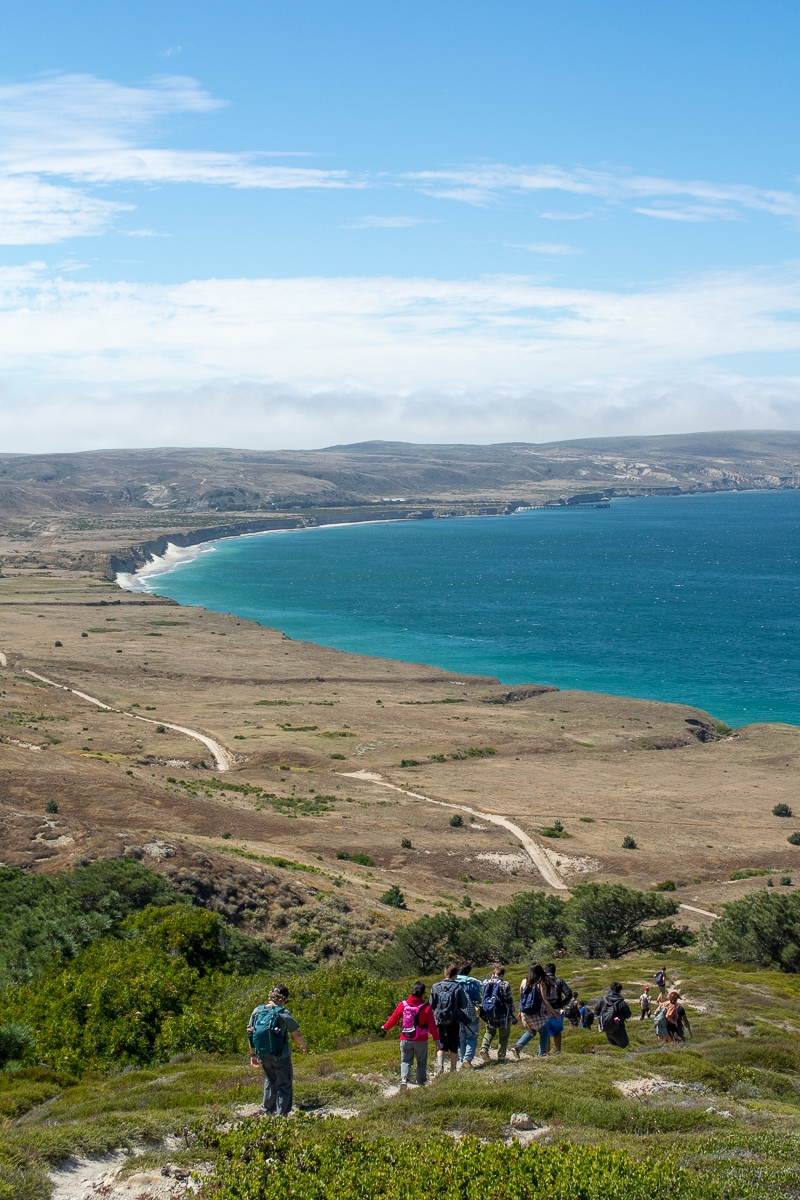 Breathtaking trips are among quasars' favorite experiences in the program, traveling up and down the state, from Channel Islands National Park to the California Academy of Sciences in San Francisco by way of Big Sur. We were supposed to go to the Jack and Laura Dangermond Preserve and the Sierra Nevada Aquatic Research Laboratory, but those trips were canceled due to the pandemic. And I wasn't the only person who missed out. The seniors in the program had the excitement of their last year cut short, and missed their last quasar trip. Someday, however, we will enjoy these trips again, and I can't wait until it happens.
Until then, quasars is exciting enough, from butterflies to dinosaurs and everything in between. Although I have not yet gotten to bond with the other quasars as deeply as I would have before the pandemic, I have still been welcomed by everyone at the Museum. The other quasars are helpful, energetic, kind, and a blast to be around. No one is an outsider, and everyone is accepted.
Ever since joining the quasars program, I have not only had the time of my life, I have also gained many important life skills. To me, the most important skill I have gained is confidence. I have always been shy, and afraid of almost everything, but the Museum has allowed me to come out of my shell and share my love for science with everyone. From dinosaur tours, the butterfly pavilion, presentations, chalk drawings, and more, I have grown from a shy introvert to an open and more confident person. I know I still have a lot more growing to do, and I am ready to take on these challenges. The quasars program is not only helpful to further your (future) scientific career, it also helps you grow into who you want to be.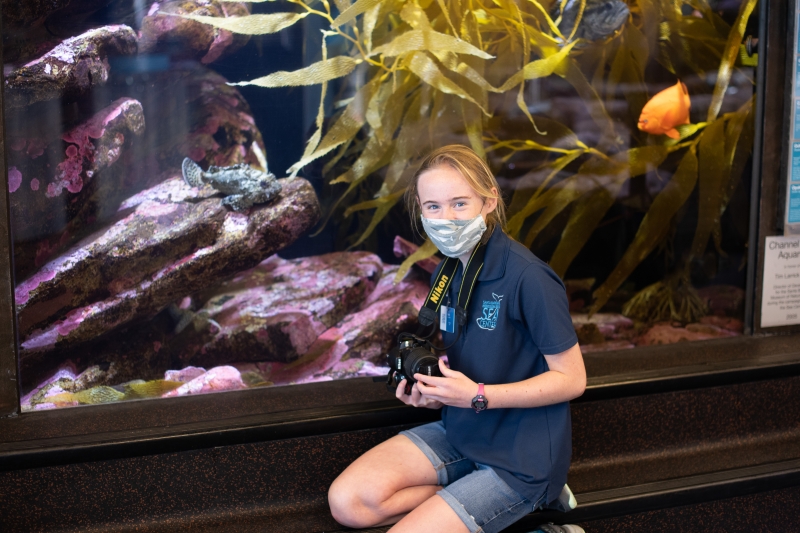 I'm ambitious, and there is a lot I want to do, but one of my goals for the duration of my time here is to do something important with my senior project. Each year, the seniors of the program must complete their own field work or research to compile a project on a topic of their choice. If it's especially good, it might even get published. That's my goal. I want to discover something new, hopefully important, and I want to do the field work myself. My field of choice? Marine biology. Although I have absolutely no idea what I am going to do and my goals are a bit lofty, I know that I want my project to be awesome. It will be my first time ever doing research of my own, and I'm ecstatic (and a little nervous too). It wasn't too long ago that I was a seventh grade student, dreaming of the day when I could make discoveries, do research, and help conserve our planet's wild places. In the last two years, I've gained confidence, and started to grow into the person that I will one day be. My dream is becoming more real every day, in large thanks to the quasars program.
Teachers, my fantasies are not just my own. You know when a student with science-obsessed thoughts walks into your classroom by the way that they ask a million questions, dig deep, and go farther than necessary in your class. The quasar program is an amazing place where these students can expand their interest in science, explore opportunities, and grow up to change the world (for the better). Give those students a chance to participate in this program. If you are interested, please spread the word in your classes.
Parents, if you want your child (or any other science-obsessed child you might know) to have this experience, please take the time to learn more about this opportunity.
Finally, and most important, if you yourself just so happen to be completely science-crazy and the right age, this program could be the experience of a lifetime. Find out if it's for you at sbnature.org/quasars. If you're not in eighth grade yet, don't worry! We look forward to having you join us in the future!