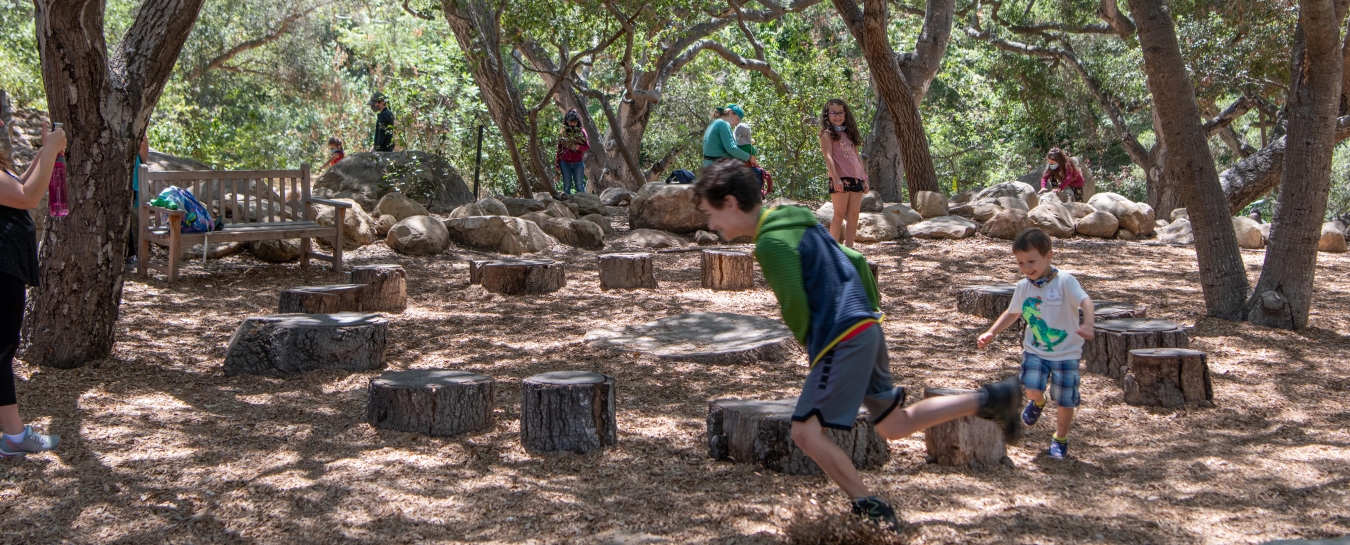 Museum Backyard & Nature Club House
Ongoing
Located just beyond the Sprague Butterfly Pavilion, the renovated and ADA-accessible Museum Backyard is a nature play area nestled in the oak woodland along Mission Creek. It is open daily during announced Museum hours and free with paid Museum admission.
Backyard Creek: Our human-made creek in the woods sets the scene for relaxation, exploration, and play for guests of all ages. The creek water is chemically treated to a public pool standard.
Sensory Garden: Guests can enjoy a sensory experience with local plants. Additional programming is scheduled for this area to help children of all ages learn more about native plants, insects, butterflies, and the work of natural scientists.
Boardwalk: A beautiful elevated walkway that winds through forest and creek, making nature accessible to all.
BioBuilders Zone: Build and create both shelter and art, letting the shapes and textures of natural materials guide you.
Nature Club House: Come inside to meet our live snake and insects. Talk with a friendly naturalist about what makes our region unique. Explore our touch table of natural objects. Swap natural objects and earn points for your research in Nature Exchange™ (developed by Science North). ADA-accessible, all-gender restroom available.



Nature Exchange

The Nature Exchange™ (developed by Science North) is like a natural trading center or swap shop. This is the place where you can bring items from nature and trade for other natural items from the constantly changing Nature Exchange collection. (Limited to one trade per visit).

Learn more about how Nature Exchange works. Including what you can and cannot bring in for exchange.

Want to get kick-started on your Nature Exchange research?
Download our Research Form or submit a find online through Nature Exchange From Home.

For more information about Nature Exchange, please email naturalist@sbnature2.org or call 805-682-4711 ext. 169.

Eyes in the Sky Aviary: Home to four rehabilitated raptors including Max the Great Horned Owl, Athena the Barn Owl, Puku the Western Screech Owl, and Koda the Peregrine Falcon. Eyes in the Sky is Santa Barbara Audubon Society's key wildlife education program featuring birds of prey that can no longer survive in the wild. For more information, visit Santa Barbara Audubon's Eyes in the Sky webpage.
Want to explore the outdoors more?
Entry to the Backyard is included with Museum admission. Members are always free.