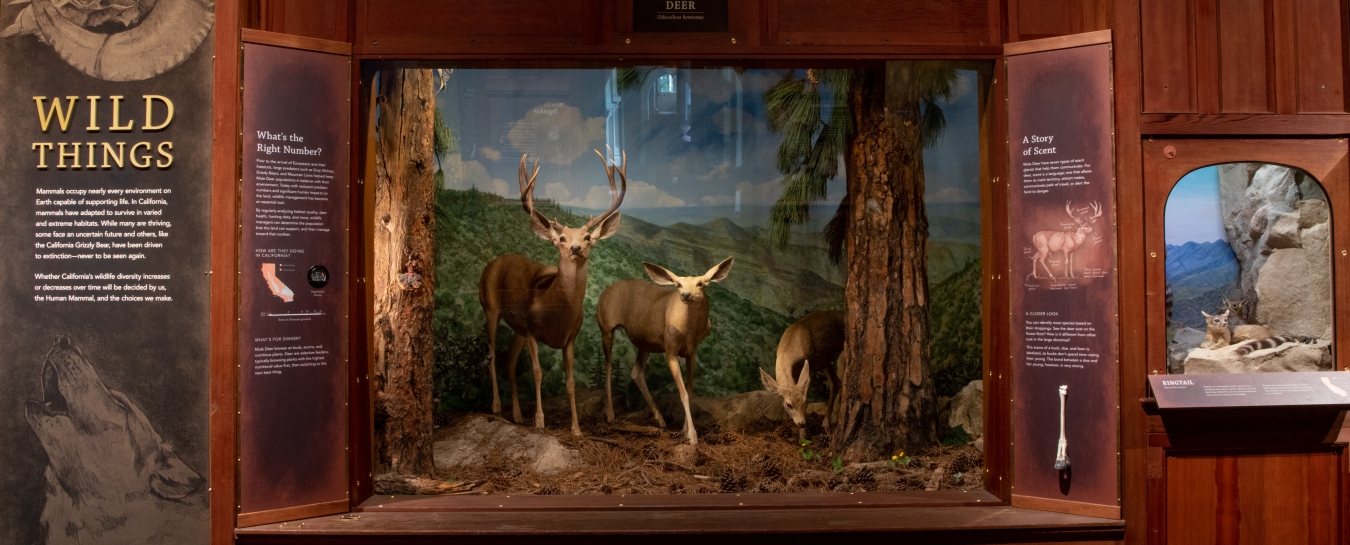 Admissions Guidelines (COVID-19)
How do I visit the Museum?
Museum admission requires advanced online reservations via sbnature.org/tickets. 
If you are a Member and do not know your Member number or expiration date (found on your card), please email membership@sbnature2.org or call 805-682-4711 ext. 114 for assistance.
Outdoor exhibit spaces are reopening to Members on February 17, 2021, and to non-members starting February 20. Our hours will be Wednesday to Sunday, 10:00 AM to 4:00 PM. Indoor exhibits are temporarily closed due to county health orders.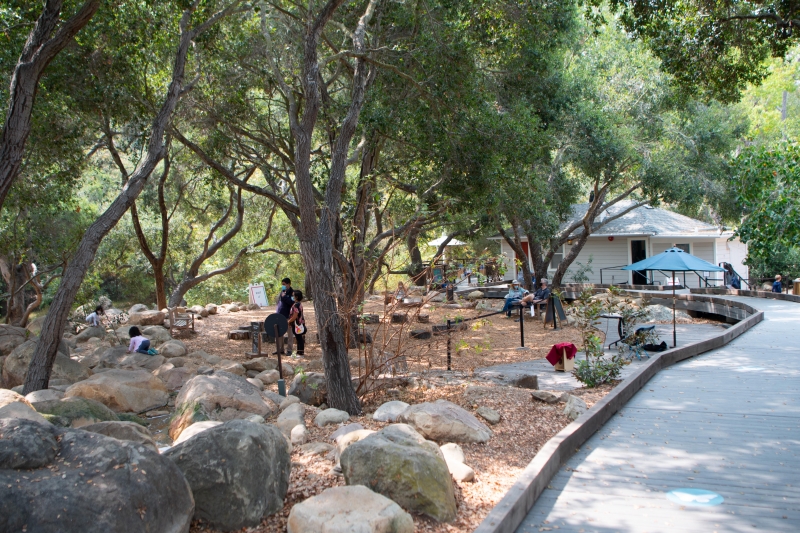 What can I visit at the Museum?
Our educational staff have created fun and engaging self-led, contact-free outdoor activities. Visit the exhibitions page for more information and check our calendar for special events.
We have implemented a one-way flow of movement from the Admissions Office through the outdoor spaces, exiting past the observatory to the parking lot. Once you have passed a location, you may not go back. 
Please review the updated campus map below (Download PDF >>)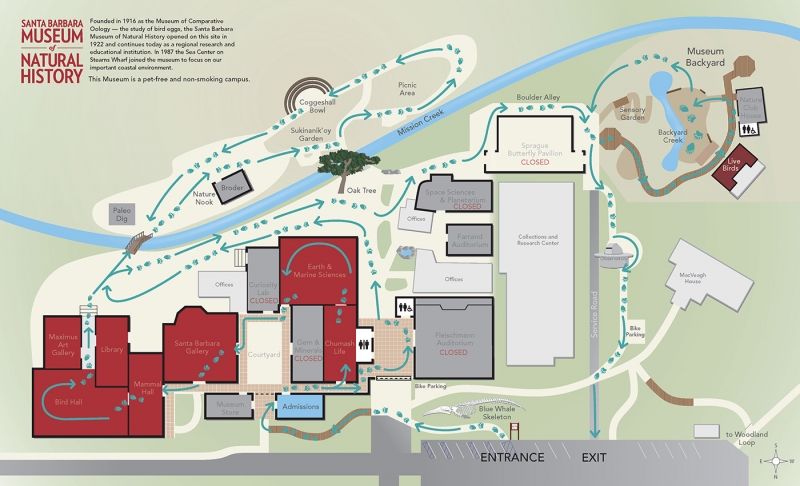 What is required to visit the Museum?
Do not visit if you have a cough or fever.
Bring your online reservation confirmation with you (either printed or on a smartphone) to show at the Admissions Office. 
Everyone 3 years or older must wear a face mask with at least 2 layers of material that covers both their nose and mouth at all times while on Museum property. 

The Museum is following CDC guidelines for masks. Single-layer material facial coverings like bandanas and masks with valves are NOT sufficient protection. If you wear a non-compliant mask, you will be asked to return with a compliant mask or purchase one at the Museum Store.
If you do not have a mask, you will either need to purchase a mask at the Museum Store or reschedule your reservation for when you can return with a compliant mask. 
If you remove your mask, staff will ask you to put it back on. If you refuse to wear a mask properly, you will be asked to leave.

We have increased signage around campus with wayfinding and guidelines. Please follow all directions to make the Museum as safe as possible for everyone.
Keep a distance of six feet from people not in your household.
Wash your hands frequently. We have added hand sanitizer stations all over campus.
Useful tips:
To protect your health, we have turned off all drinking fountains. There are light snacks for sale in the Museum Store. You are welcome to bring your own food and beverages to enjoy while at the Museum.
We have spaced our outdoor dining tables and chairs to allow for ample social distancing. Please do not move them. 
Can I visit the Sea Center?
The Sea Center is temporarily closed.
Despite our stringent cleaning and sanitizing protocols, we cannot control all circumstances. By entering our campuses, you acknowledge that you assume any risks associated with your visit, including but not limited to a risk of injury or illness.
Questions, comments, or concerns? Please contact us at info@sbnature2.org.
We look forward to seeing you soon!