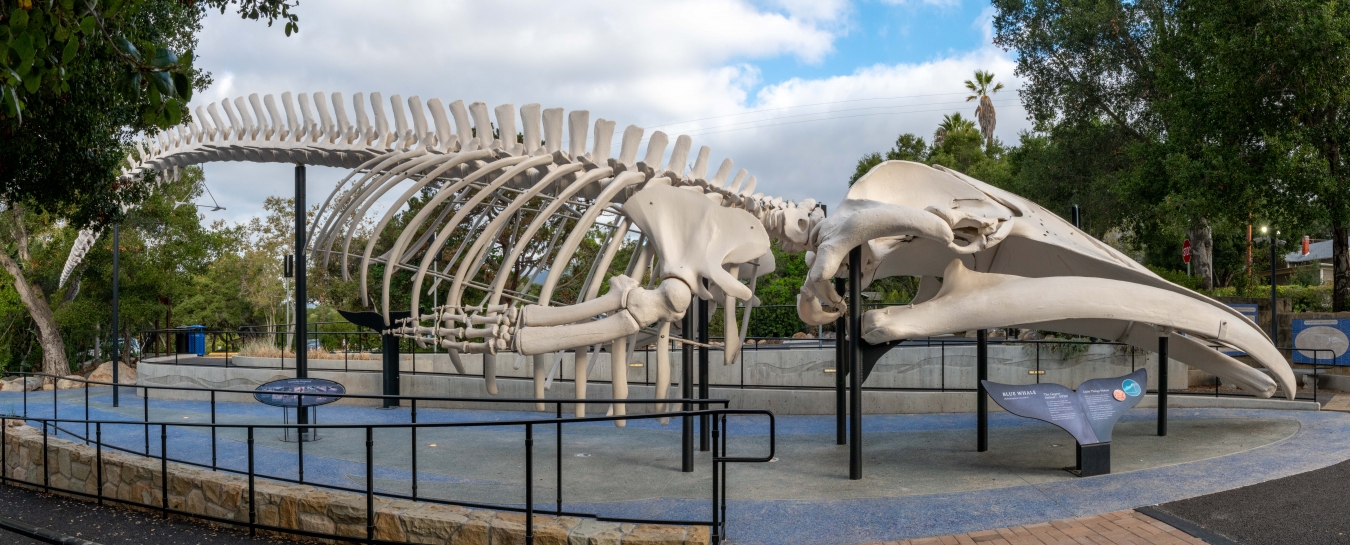 Blue Whale Skeleton
One of only five complete Blue Whale skeletons in the United States
Ongoing
Some natural history museums have iconic dinosaur skeletons. We have a skeleton of the largest animal to ever exist on Earth – the Blue Whale.
As one of only five complete Blue Whale skeletons in the United States, the Museum's iconic 72-foot long phenomenal specimen is more than just a noted Santa Barbara landmark, it also represents a rare opportunity for children and adults to gain first-hand exposure to, as well as an appreciation of, the world's largest animal.
The skeleton, which weighs nearly 7,700 pounds, is 98% real bones and is a composite of four specimens. The skull and mandibles and one of the ear bones are from two different Blue Whales that stranded in Ventura, California in September 2007; the last five tail vertebrae are cast replicas made from tail bones of a Blue Whale borrowed from the Los Angeles County Museum of Natural History, and the majority of the skeleton is from a Blue Whale that stranded on south Vandenberg Air Force Base in 1980.
Viewable from the Museum's parking lot, the skeleton has been positioned as if the whale is beginning a deep dive into the water. Visitors enjoy walking under the skeleton and into the rib cage to experience the sheer size of these gentle giants.
The Museum's Blue Whale skeleton is proudly named "Chad" thanks to the leadership gift of the Dreier Family. The skeleton is truly a generational icon, so Museum Trustee Doug Dreier and his family named it "Chad," which is the middle name of the men in the Dreier Family for three generations.
The History of the Museum's Blue Whale Skeleton
The Museum's Blue Whale skeleton is of a young male that washed ashore near Vandenberg Air Force Base in August 1980. The process of removing the bones from the beach and bringing them back to the Museum for preparation took over six weeks. Upon arrival, Dr. Charles Woodhouse then Curator of Vertebrate Zoology, along with hundreds of volunteers, worked for nearly three years to clean the bones and assemble the skeleton to make it the iconic image of the Museum that it is today.
Blue Whales are considered to be the largest animal in the history of planet. From July to October the gentle giants can be found in the Santa Barbara Channel, with nearly 2,000 Blue Whales traveling offshore on their solo journeys for food. Despite their massive size, the whales feed on tiny shrimp-like crustaceans called krill, consuming as many as 40 million krill per day.