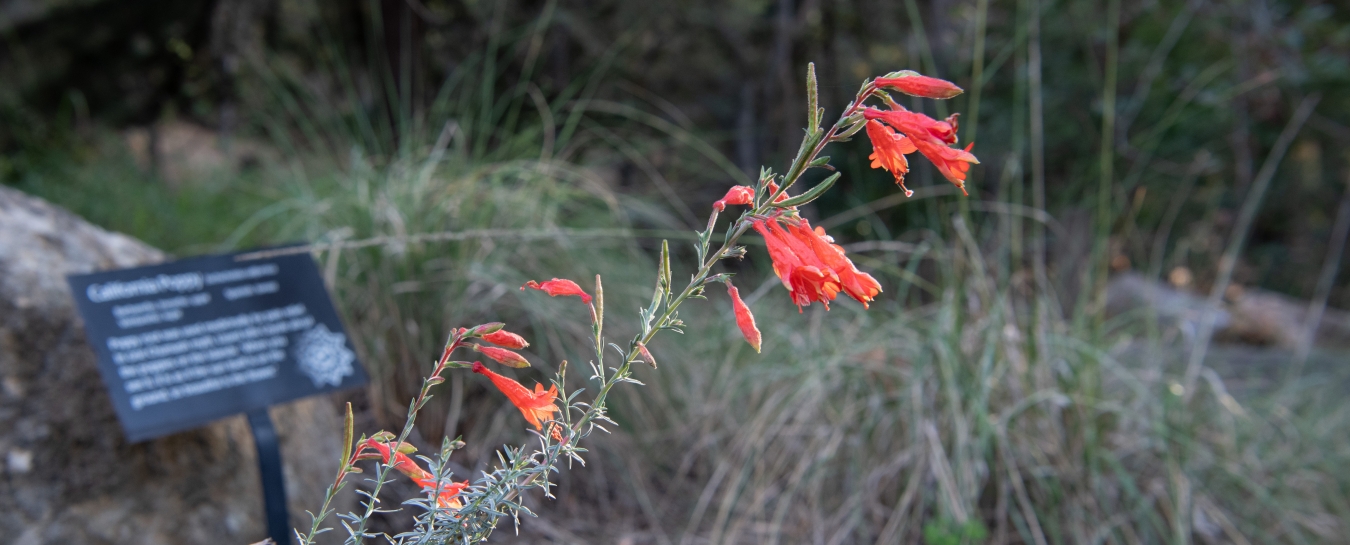 Across the Creek
Ongoing
You might cross the bridge in order to walk among the big dinosaurs of Prehistoric Forest, but there's more to explore here on the south side of Mission Creek. Like the Museum Backyard, this is an outdoor area of our campus for nature education and play. However, this area across the creek is not ADA-accessible (the Backyard is ADA-accessible). Check out our accessibility page for tips on getting across the creek to enjoy this area.
Sukinanik'oy Garden
The heart of this area is the Sukinanik'oy Garden of Chumash Plants. In the Barbareño Chumash language, sukinanik'oy means "bringing back to life." This garden was established by the Museum working with Chumash people to preserve traditional plant knowledge. More than 150 species of wild native plants provided food, medicine, clothing, shelter, basketry, and tools for the Chumash Native people of our region. The garden shares information about many of the plants important in Chumash culture, both past and present. The Sukinanik'oy Garden was made possible by the Garden Club of Santa Barbara and gifts in memory of Dawn Hattenbach.
Take home ethnobotanical knowledge for further study by picking up the pamphlet A Guide to Sukinanik'oy Garden of Chumash Plants or the book Chumash Ethnobotany: Plant Knowledge Among the Chumash People of Southern California by Curator Emeritus of Anthropology Jan Timbrook, Ph.D. Both resources are available in the Museum Store on-site and online.
Wooded Area
This riparian oak woodland habitat is home to insects, spiders, birds, fungi, small mammals, and more. It's a beautiful part of our campus where many couples have chosen to tie the knot. It's also an ideal place for people of all ages to simply enjoy nature.
Stroll beneath the oaks or take a seat to picnic or quietly birdwatch. Confident rock-hoppers may venture down into the creek to look for riparian invertebrates. Rocks are slippery when wet, but with sturdy shoes and good balance this is a fun place to play. Use common sense and know your limits; as our Backyard founder Elaine Gibson says, "Don't be dumb."
When you explore nature, enjoy unknown plants with your eyes, not your hands; Poison Oak is common in our region and everyone should learn to recognize and avoid it. Check out this great handout from our neighbors at the Santa Barbara Botanic Garden, which shows Poison Oak in every season. "Leaves of three, let it be" is a common rhyme we teach our children to be cautious of Poison Oak, whose leaves usually grow in clusters of three. Harmless plants like berries also grow in this pattern, but until your botany skills are strong enough to distinguish these plants, it's better to be safe than sorry. The most common reaction to contact with the urushiol oil in Poison Oak is an itchy red rash.
Entry to the area Across the Creek is included with Museum admission. Members are always free.