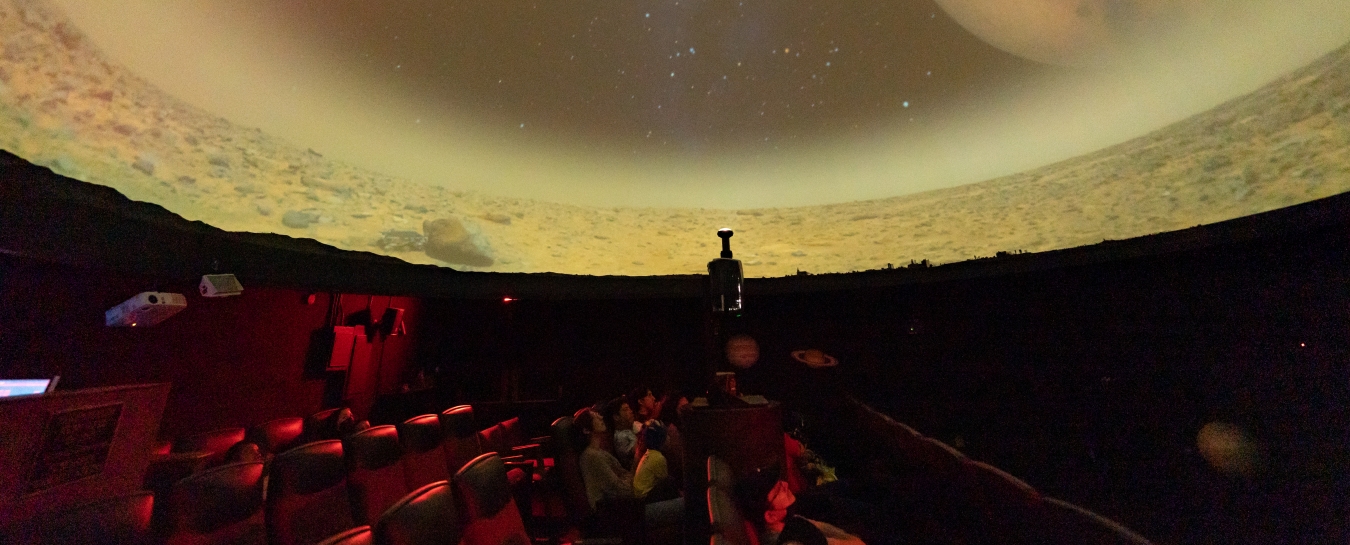 Gladwin Planetarium
Ongoing
Inside our theater, the stars are always out.
Our expert Astronomy Programs presenters are ready to answer your questions during interactive live presentations. Get to know the stars of Santa Barbara, the universe, and the wonders of space.
Planetarium shows are included with admission. Listen for the announcement on the speaker system in our exhibit halls inviting you to line up in front of Space Sciences 5–10 minutes in advance of each show. First come, first served.
There's more beyond the planetarium: check out all our Astronomy Programs.
Summer Planetarium Shows
Weekends
11:00 AM – The Night Sky for Little Dippers
(recommended for families with young children; 15 minutes)

This 15-minute presentation is designed for young audiences and features different topics at every show. Come back again and again with your little one to build up their enthusiasm and excitement for space!


Noon – Exploring the Solar System
(recommended for ages 5 and up; 40 minutes)

Let's take a trip around our solar system. We'll visit our sun, the planets and their moons, asteroids, comets, and of course dwarf planets like Pluto. We'll also learn about the most recent planetary discoveries from NASA and other space exploration programs. This presentation includes live Q&A with the presenter.


1:00 PM – Exploring the Spring Sky
(recommended for ages 5 and up; 40 minutes)

Join us for a tour of tonight's night sky. We'll learn about the constellations and planets visible in Santa Barbara tonight, along with any upcoming astronomy events like meteor showers, comets, or eclipses. This presentation includes live Q&A with the presenter.


2:00 PM – De la Tierra al Universo
(se recomienda para edades de 5 años y arriba; 40 minutos)

El cielo nocturno, hermoso y misterioso, ha sido el centro de historias en campamentos, mitos antiguos y leyendas desde que existimos. Sin embargo, solo recientemente hemos comenzado realmente a comprender nuestro lugar en el vasto cosmos. Únete a nosotros en un viaje de descubrimiento celestial. Esta presentación incluye preguntas y respuestas en vivo con la presentadora.


3:00 PM – Stars of the Pharaohs
(recommended for ages 8 and up; 40 minutes)

Travel to ancient Egypt to see how science was used to tell time, make a workable calendar, and align huge buildings. You'll learn about the connection the ancient Egyptians felt with the stars and various astronomical phenomena. See spectacular temples and tombs of the ancient world recreated in their original splendor.
From the journey of protons racing through the world's largest particle collider in Europe to up-close views of the Big Bang and emergent cosmos, Phantom of the Universe is designed to immerse audiences in the search for dark matter.