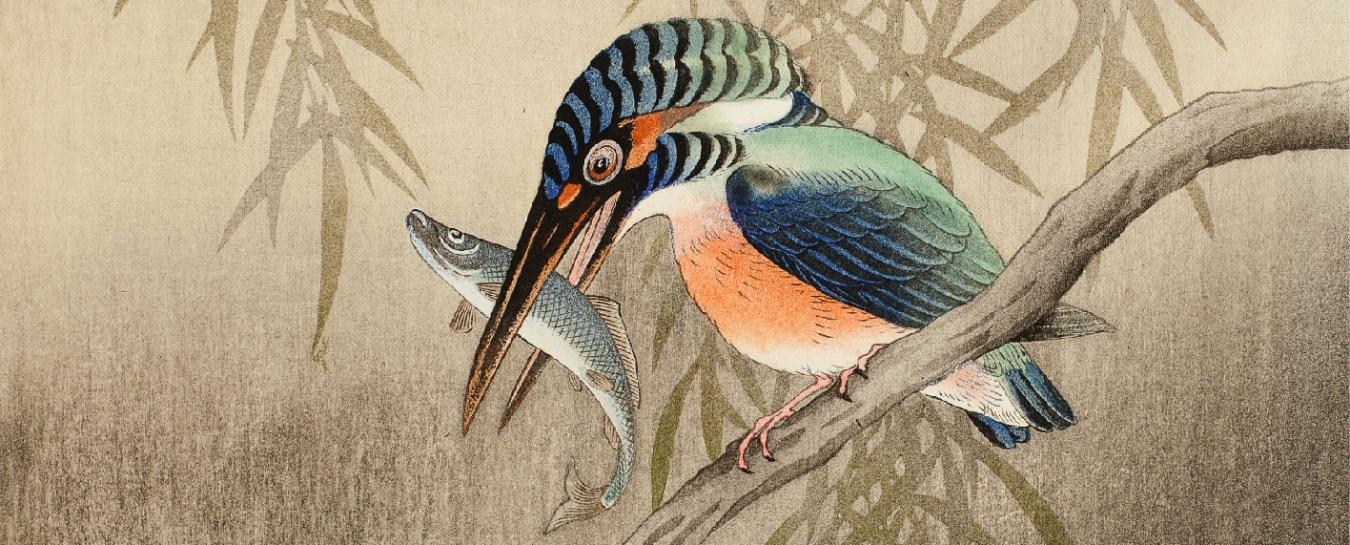 Kachō-e: Impressions of Natural History in Japanese Prints
John and Peggy Maximus Gallery
Ended January 5, 2020
Kachō-e features Japanese illustrated books by artists like Hokusai (who created the iconic Thirty-six Views of Mount Fuji and The Great Wave off Kanagawa), a carefully arranged selection of chrysanthemum prints, and a whole menagerie of spirited animals that seem prepared to leap, swim, fly, and slither off the page.
These remarkable prints belong to kachō-e, a subset of the genre of ukiyo-e prints (usually depicting landscapes, portraits, and scenes of daily life). Kachō-e concentrates on studies of birds and flowers, as well as other scenes from nature. While the Western approach to natural history was based on description and classification, the Japanese view was concerned with how all things fit together, and related to experience, perception, and aesthetics. Masters of kachō-e were guided by both expression and emotion. They succeeded in capturing the experience of being overwhelmed by the saturated color of a blossom or charmed by the clever personality of a bird in the wild.
As a complement to the exhibit of antique prints, a special display in the Maximus foyer showcases work by Bill Logan, whose exuberant ink paintings (which he describes as mark-making) of owls, cats, and blooms look as if they might have tumbled onto his paper in the manner of early Japanese brushwork.
Exhibit included with Museum admission.