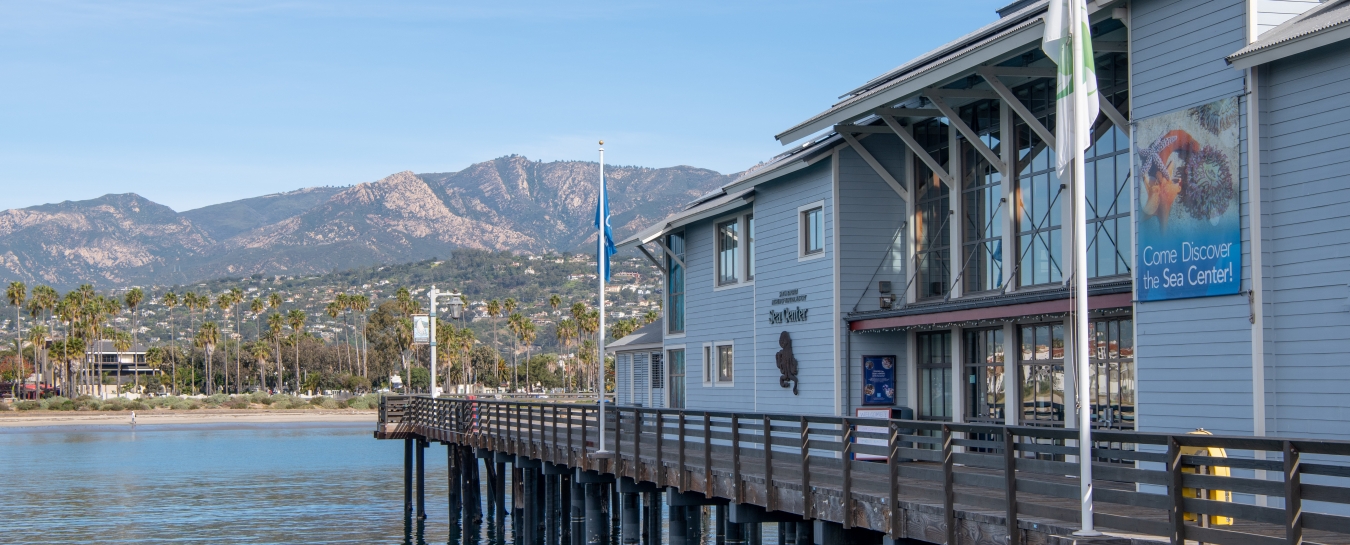 Field Trips at the Sea Center
Registration for fall 2022 field trips is now open
Booking for winter and spring 2023 will open on November 2, 2022.
We are delighted to offer a variety of options for Sea Center school field trips, designed for grades K–12. We offer experiential, Next Generation Science Standards (NGSS)-aligned school programs for elementary, middle school, and high school classes. These dynamic, interactive programs all include:
A fun, interactive topic-driven program on the pier  
A tour of the Sea Center that highlights their program's special content  
An exclusive Sea Center scavenger hunt on Stearns Wharf 
These programs get kids up close and personal with the wildlife and ecosystems in our local Central Coast areas inside our Sea Center, and on the wharf and beaches nearby. Students will learn about important science concepts through real-life interactions with the animals and their habitats with the guidance of our expert educators and Sea Center naturalists.
Also available:
Contact seacenterbookings@sbnature2.org for more information.
Menu of Field Trip Programs
Note: All field trips are aligned with specific NGSS grade-specific standards, but can be adjusted to work for a range of grade levels.
Contact seacenterbookings@sbnature2.org for details or to have a program adjusted for your class.
Kindergarten
Trip to the Tide Pools!
NGSS: K-LS1-1, K-ESS3-1
Students learn what the basic needs of marine animals are, and what unique and resilient marine animals can commonly be found in our own local Intertidal zone, or tide pools. They make observations about how these spunky intertidal animals might meet their needs in this ever-changing habitat.
First Grade
Powerful & Precious Pups of Shark Cove
NGSS: 1-LS1-2
Students learn about how different animal families keep their babies safe and sound in incredibly different ways. Students get to see up close how local Swell Shark and Horn Shark embryos are able to survive throughout the long months spent unhatched in their beautiful, strong egg cases. Students handle, observe, discover, and share the differences between real egg case specimens then learn about the effective parental behaviors exhibited by each species.
Second Grade
Marine Biodiversity: Stronger Together
NGSS: 2-LS4-1
Students learn about the amazing diversity of life between habitats, and how biodiversity makes marine ecosystems both stronger and more resistant to outside threats. Each student has the opportunity to take the role of an organism in a marine habitat, and find out how it feels when marine communities are disrupted and instability occurs.
Third Grade
Birding by the Blue
NGSS: 3-LS4-3
Students become experts on the features of our local sandy coastal beach habitat, and use their knowledge to make predictions as to whether or not specific bird species would be able to live here. Students "go birding" right from the pier, identifying and making inferences about birds' homes and lifestyles based on what they see.
Fourth Grade
Sensing the Sea: Beyond the Five Human Senses
NGSS: 4-LS1-2
Students experience the incredible diversity of senses animals have in marine habitats. By examining actual specimens, they will learn about the electroreceptors of sharks, the movement-sensing whiskers of sea lions, and echolocation used by dolphins, and how these unique senses aid in the survival of these marine creatures. Students get the chance to "dive in" and experience sound waves the way that dolphins do!
Third–Fifth Grade
Bizarre Biology: Becoming a Bryozoan
NGSS: 3-LS2-1, 4-LS1-1, 5-PS1-1
Students will meet an amazing animal—or is it animals?—of the sea, the bryozoan. This beautiful creature lives in colonies where each tiny member has a necessary and unique job. Students will see firsthand how all living things are made up of smaller things, and that when these components work together, an incredible diversity of life is possible. Then students will "become" such an animal, and get to experience the importance of each job as they work together to ensure the community thrives.
Field Trip Health and Safety Information
The health and safety of the children and adults who join us for field trips is extremely important to us. Due to the continuing presence of COVID in our communities:
All Sea Center staff and volunteers working with students are vaccinated for COVID-19. 
Only one school group will be visiting the Sea Center at a time. 
During the tour portion of the field trip, class groups will be divided as necessary to reduce the number of students in the facility to a maximum of 15 at a time. One group will tour the Sea Center while the other class embarks on their Scavenger Hunt, and after 25 minutes, the groups will switch.
If you have any questions or concerns about safety while your group is here, please reach out anytime to our School and Teacher Services Manager Charlotte Zeamer, Ph.D. at czeamer@sbnature2.org.