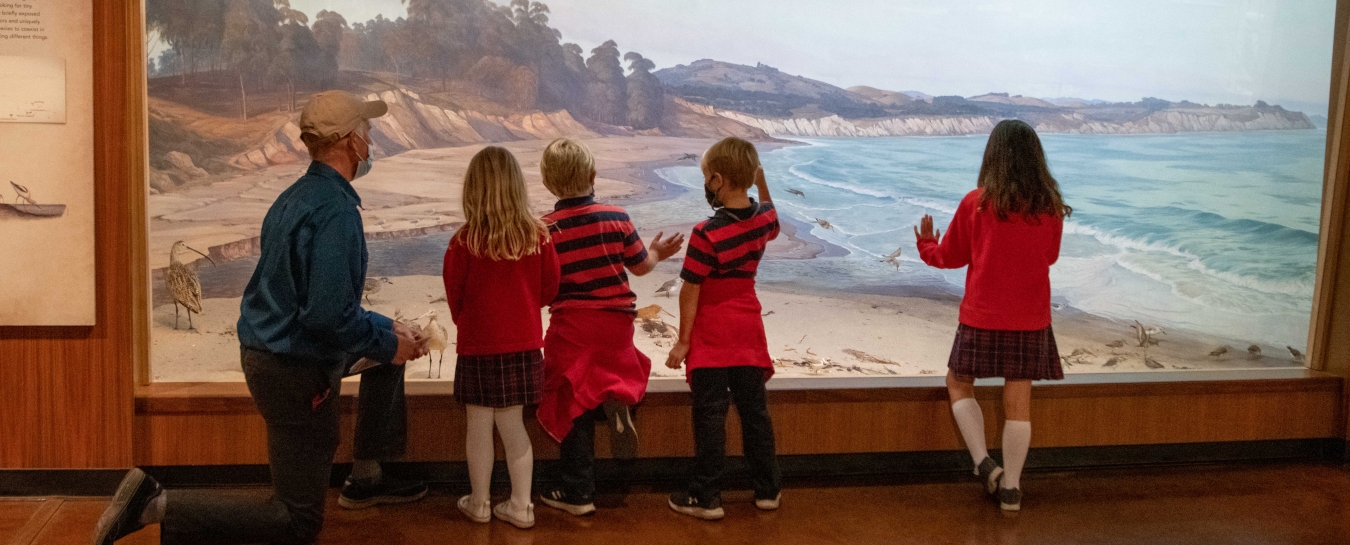 Field Trips at the Museum
All field trips at the Museum include:
An Outdoor Nature Exploration experience in our Museum Backyard
OR
An NGSS-aligned, interactive Museum Lab
AND
A Museum Mystery Tour where students work together in groups to solve important science questions using our galleries and exhibits as resources.
All field trips include a scientific snack break in our Prehistoric Forest, where students can stretch their legs and meet some dinosaurs.
Field Trip Safety Information
The health and safety of the children and adults who join us for field trips is extremely important to us. Please know that for the 2021–22 academic year we will be taking the following steps in response to the presence of COVID-19 in our communities:
The Museum will be hosting no more than two (2) classes at a time. These groups will be separated while they enjoy their field trip experience with us.
Anyone 3 years or older who visits the Museum will be required to wear a mask at all times, except when eating or drinking.
All Museum staff and docents working with field trip students will be vaccinated against COVID-19.
Our labs and Backyard experiences will all be held in outdoor areas.
Only one class will be in the Museum halls at a time.
We are excited to be welcoming groups back to the Museum in person this fall! If you have any questions or concerns about safety while your group is here, please reach out anytime to our School and Teacher Services Manager Charlotte Zeamer, Ph.D.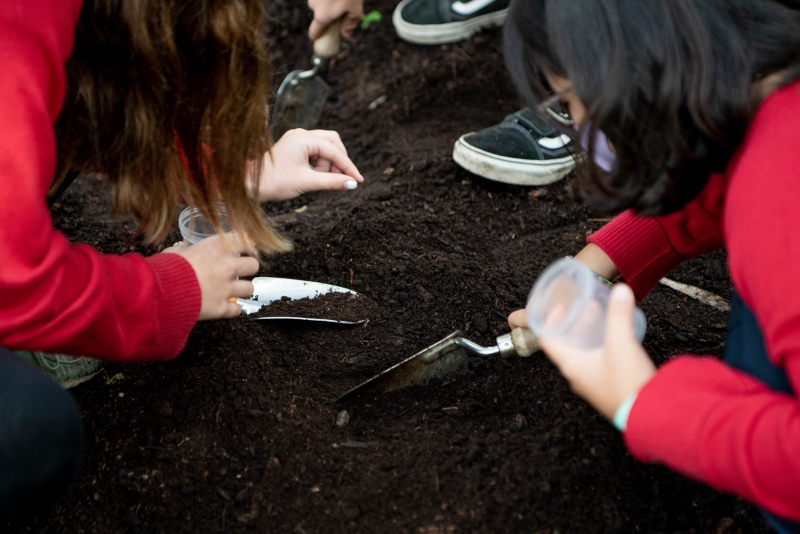 Kindergarten
Backyard Nature Experience – Animals at Home
Students will discover what animals live in the Backyard, identify their basic needs, and share how animals find food, stay safe, and make their homes in the oak woodland habitat.
Museum Mystery Tour – Who Lives Where?
Students interact with docents and their peers as they explore our Museum galleries to help solve the mystery of where animals make their homes in the ocean, in the forest, and underground.
First Grade
Museum Lab – Meet the Teeth
What do teeth tell us about what an animal can eat? In this interactive program, students get hands-on with animal skulls and distinguish between herbivores, omnivores and carnivores.
Backyard Nature Experience – Amazing Animal Adaptations
Students identify the basic needs of animals, describe their different traits and recognize the different ways animals use their physical parts and their special skills to get what they need from the oak woodland habitat.
Museum Mystery Tour – How Do They Do That?
Students work with their teachers and peers (with a docent guide) to discover ways that animal traits help them be winners in a rough-and-tumble wild world, and what humans can learn from these amazing adaptations.
Second Grade
Museum Lab – Earth Tells a Story
Students explore magnificent Earth processes, discover the life histories of gems, minerals, and rocks, and look at the amazing ways the ground below us here in Santa Barbara is feeding, supporting, moving, and shaking the life above every day.
Backyard Nature Experience – Diversity All Around Us
Students will observe and connect concepts regarding the Santa Barbara plants and animals found inside the Museum to the oak woodland habitat in the Museum Backyard. Students will discuss the diversity of organisms in the Backyard and the connections between plants and animals seen.
Museum Mystery Tour – The Many, The Different, The Mighty
Students explore Museum galleries with docents to learn how biodiversity makes ecosystems strong. Students will work in small groups as careful observers to find the mighty teams of plants and animals that live together, intertwined for the good of all.
Third Grade
Museum Class – Chumash Life
Students will explore the Museum's Sukinanik'oy Garden of Chumash Plants, handle artifacts and learn about Chumash life over time.
Backyard Nature Experience – The Wonderful Web of Life
Students will gain an understanding of different roles in an ecosystem, especially how plants and animals get energy and how that energy moves through a food web.
Museum Mystery Tour – Survivors: Awesome Animal Adaptations for a Wild World
Students search our galleries for the ways animal traits help them survive and thrive in the habitats they call home.
Fourth Grade
Museum Lab – What Lies Beneath: Paleontologist for a Day
Students get their hands dirty as they become a paleontologist for the day, while learning about how fossils are formed, discussing the evolution of the Pygmy Mammoth, and participating in teams in a hands-on mini-dig of their very own.
Backyard Nature Experience – Roaming the Riparian Woodland
Students will get a chance to be explorers in our creekside woodland, seeking out and discovering the unique plants and animals that live there. Students will discuss ways that living things' shape, body structure, and behavior help them survive well in this environment.
Museum Mystery Tour – Beautiful Inside and Out
Students work together to find and identify animal traits—some on the outside, some inside—that help them survive, eat well, and reproduce in their natural environments.
Fifth Grade
Backyard Nature Experience - Food Web of the Oak Woodland Ecosystem
Students will learn the roles of producers, consumers and decomposers in an ecosystem. We will then build an Oak Woodland food web after observing the different living things found in the Backyard and identify the importance of maintaining a balance within the ecosystem. Students will get the opportunity to get up close and personal with decomposers in the dig pile and discuss their roles in the food web.
Museum Mystery Tour – Keeping It All in Balance: Forces Affecting the Food Webs
Students explore the Museum to find how energy connects the lives of plants and animals in various ecosystems.