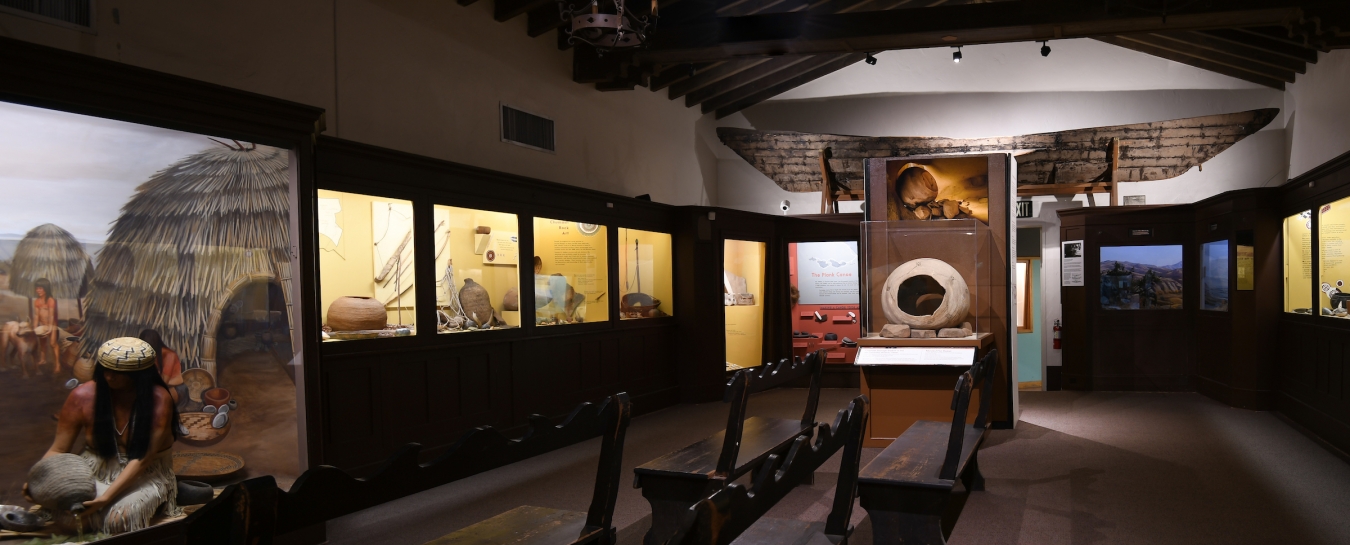 Chumash Life
Discover the lives of the Chumash
Ongoing
A Rare Treasure
The first thing you see on entering Chumash Life is a very fine basket with unusual designs copied from Spanish colonial coins. A closer look reveals words in Spanish encircling the rim. These tell us the weaver's name, Juana Basilia, and indicate when and why she made the basket. This is one of only six Chumash baskets of this kind in the world.
Largest Chumash Basket Ever Found
The largest Chumash basket ever found is now on display in the Museum's Chumash Life exhibit hall. This more than 200-year-old Cuyama Chumash basket was discovered in a remote area of Santa Barbara's backcountry in 2015 and is a beautiful representation of the strength and durability of baskets that played essential roles in all aspects of Chumash life.
Halford Collection
The Halford Collection came to the Museum in 2013 and consists of well-preserved examples of Chumash artifacts made from plant materials, which often do not survive in the archaeological record. These artifacts include an arrow-making kit, hinged-stick snares, two beautiful examples of water bottle baskets, and much more. A selection of items from this collection is now on display in Chumash Life.
Lone Woman of San Nicolas Island
The popular book, Island of the Blue Dolphins, was based on the real life of a Native woman who lived alone on San Nicolas Island for 18 years. A historically accurate oil painting of the Lone Woman, based on descriptions by people who actually saw her when she was removed from the island in 1853, was recently donated to the Museum by local artist Holli Harmon. The painting has now been installed for public viewing as a permanent addition to the existing Lone Woman exhibit in Chumash Life. Although she was not Chumash, she is an important figure in the history of Santa Barbara.
For more information on the Lone Woman please visit the National Park Service website.
Fernando's Canoe
Above the door at the end of the room is a very special Chumash plank canoe, or tomol, that never went to sea. Fernando Librado Kitsepawit, a Chumash man, saw the last original tomols as a boy in the 1850s. He was in his seventies when he shared his memories with the anthropologist John P. Harrington. Together they built this tomol for display in 1915. The knowledge they preserved has allowed new tomols to be built and cross the Santa Barbara Channel today.