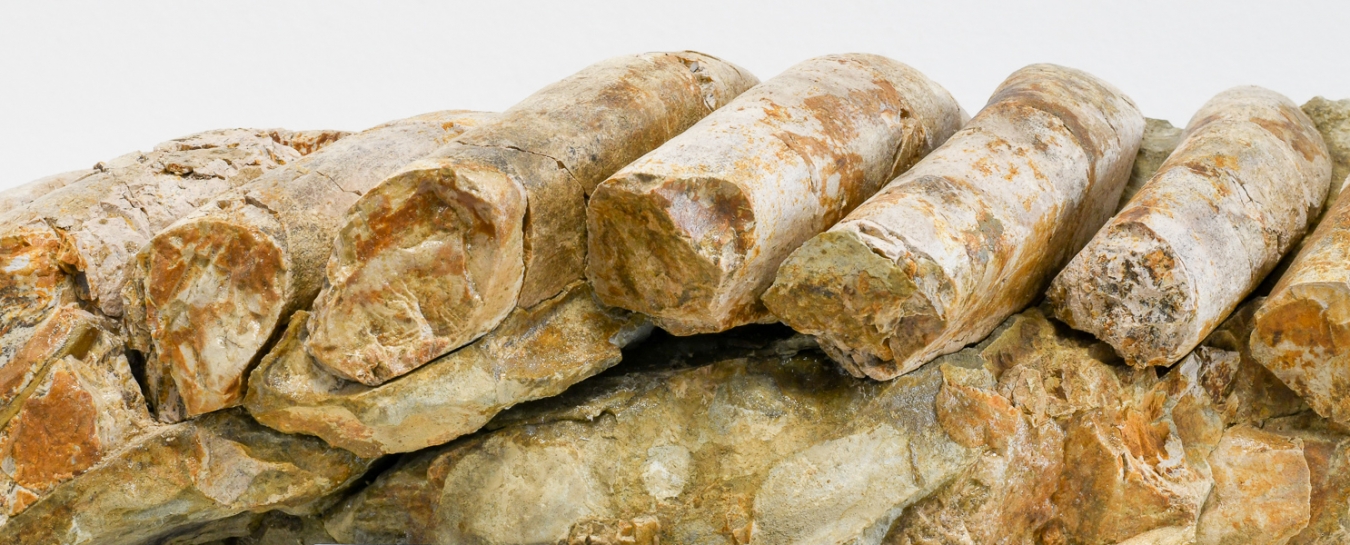 Santa Rosa Island Sea Cow
There's a new and exciting specimen in our Collections & Research Center: the fossilized bones of a 20-25 million-year-old dugong discovered on Santa Rosa Island in Channel Islands National Park (CINP). (Dugongs are sea cows, a group of herbivorous marine mammals that includes manatees.) We're excited not just by the scientific significance of the find—the first sea cow remains from California's Channel Islands—but by the fact that this is the first SBMNH-led paleontological expedition since the heyday of our Curator of Geology and Anthropology Phil C. Orr in the mid-twentieth century. The dugong is under our curation because SBMNH is the official repository for paleontological material from nearby CINP.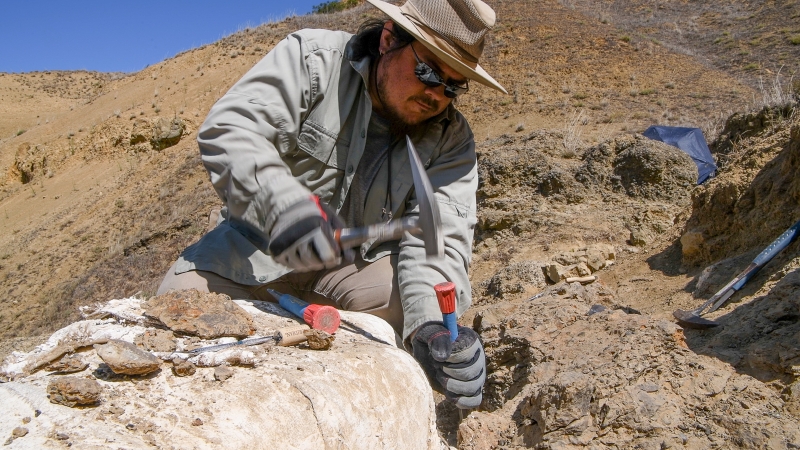 In 2017, after scientists working with the United States Geological Survey discovered the fossils, a team led by our Dibblee Collection Manager of Earth Sciences Jonathan Hoffman, Ph.D. worked to stabilize the exposed material and safeguard it from winter weather. They removed a small, already detached specimen and prepared it for study and display at the Museum (pictured above). This specimen shows the large, dense ribs characteristic of sea cows (the group to which dugongs and manatees belong), which help them stay low in the water as they graze on seagrass.
In August 2018, Hoffman and a team of experienced volunteers from SBMNH, University of Wyoming, UC Berkeley, UC Santa Barbara, Santa Barbara City College, Natural History Museum of L.A. County, and Pennsylvania State University returned to the site to excavate the exposed fossils and related material, with the permission and support of the National Park Service. The excavated material included the top of the animal's skull, which will help researchers determine whether it belongs to a known species or one new to science. In addition to collecting other fossilized dugong bones, the team recovered invertebrate fossils that will help them learn more about when this animal was alive, and what the surrounding ecosystem was like.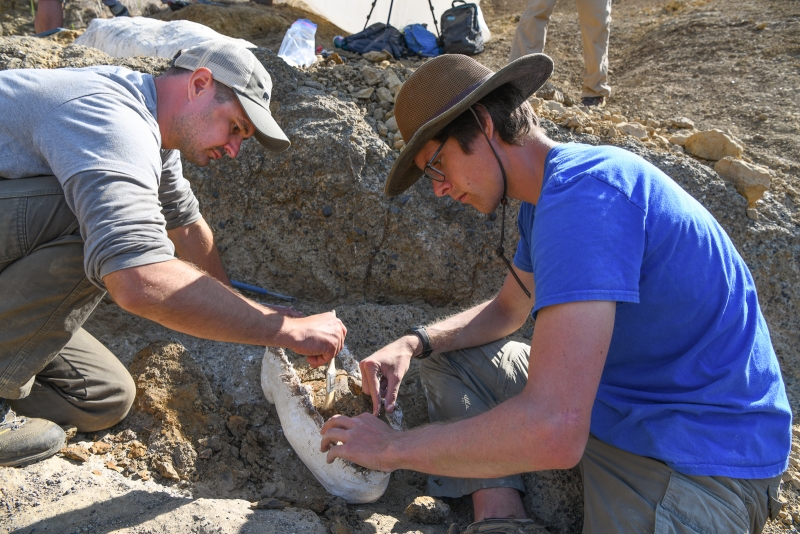 In September, the largest excavated specimens were airlifted from the site to Becher's Bay, and brought to the Museum. This is just the beginning of the work to be done: next, Hoffman and Volunteer Preparator Chris Everett (a master's student in Earth Science at UCSB) will be slowly and carefully clearing away the rock in which the fossils are embedded. Check back on this site for updates to their progress and new publications which arise from this work.
Learn more
Press releases