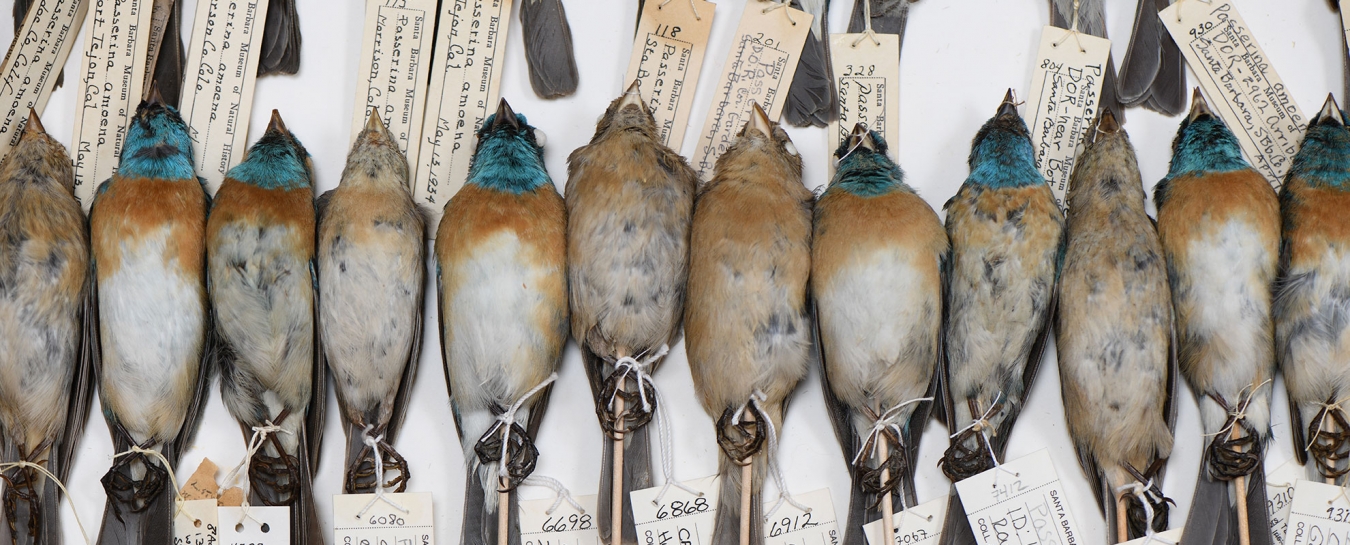 Ornithology
History


The Santa Barbara Museum of Natural History was originally founded as the Museum of Comparative Oology in 1916 by the well-recognized ornithologist, William Leon Dawson. This collection-based institution began as a repository of bird's eggs, nests, and skins. Tragically, the bird skin collection suffered a catastrophic loss in the April 1962 fire that claimed a major portion of the vertebrate collections.

Major Collection Donors
Since the fire, the bird skin collection has been rebuilt, such that it now contains more specimens than before the fire. With the noted collecting efforts of W. G. Abbott, E. Z. Rett, J. Cushing, I. K. Dunbar, D. H. Blanchard, and P. W. Collins, our collection consists of significant holdings of Channel Island specimens, as well as the largest collection of birds from this region. Many of the skins have accompanying osteological material as well as a small number of wing and tail preparations.

Our bird egg collection ranks 10th in the nation and houses W. L. Dawson's personal egg collection as well as sets from other notable oologists such as Sir C. Becher, Harry R. Caldwell, D. L. Garrett, E. Jacot, Lawrence T. Stevens, and F. C. Willard.

Geographic Coverage
With over 490 North American species our collections are primarily regionally focused, but with the recent addition of the Dean H. Blanchard collection we now have study skins from regions in Ecuador, Madagascar, Ethiopia, and Afghanistan. Our 12,000 sets of eggs encompass over 1300 species worldwide.

Collection Manager
Curator of Vertebrate Zoology Krista Fahy, Ph.D.