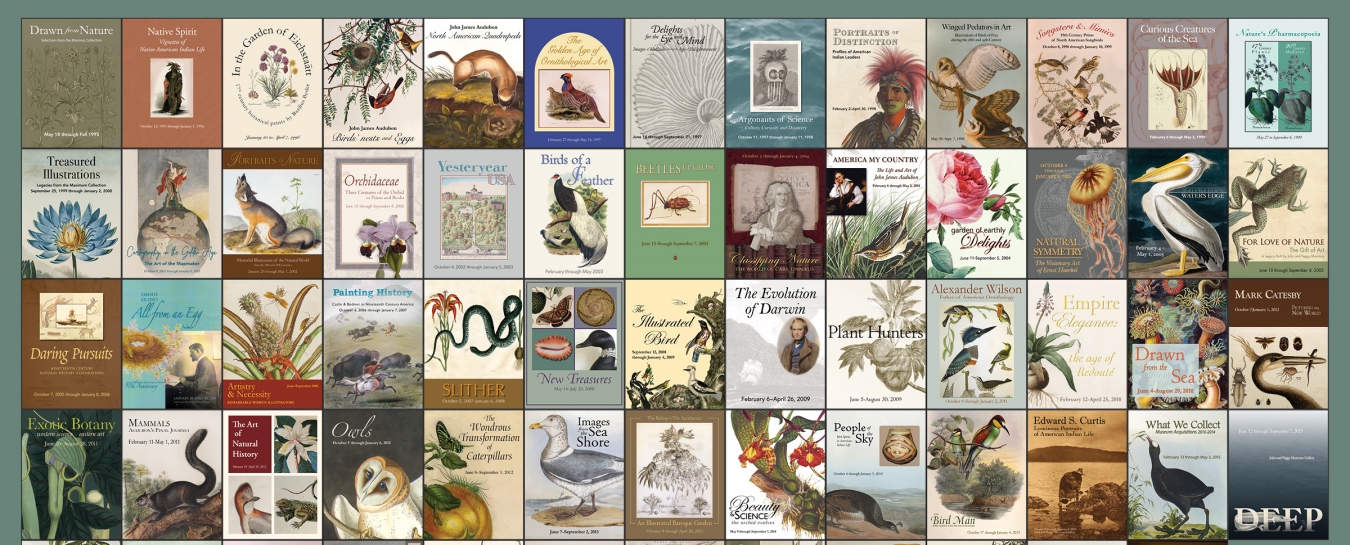 July 14, 2022 / 1:11 PM
27 Years, 65 Exhibits: Piece of Cake!
The last couple years have flown by so quickly that we've overlooked milestones worth marking. In 2020, the John & Peggy Maximus Wing passed its 25-year anniversary, an event which—had it been safe to gather then—we certainly would have celebrated with a reception and a giant cake topped with an Audubon in icing. Two years later, Maximus Curator Linda Miller is pausing to reflect on this quarter-century accomplishment. Consider this letter your virtual piece of cake: just as sweet, and not at all fattening.
Cosmopolitan sophisticates John and Peggy Maximus came into the life of the Museum after becoming our Mission Canyon neighbors in 1977. They spent their working years in Hollywood—where Peggy was a leading interior designer—and New York City, where John worked as a commercial illustrator. Like most current Museum staff, I never had a chance to meet Peggy or John, but I can see their personalities in their photographs. They look glamorous, fashionable, playful. They don't necessarily look like the people you'd imagine amassing a collection of over 2,000 antique prints tracing the parallel rise of zoology and botany with printmaking technology. Maybe that just goes to show that we all make assumptions about antique prints.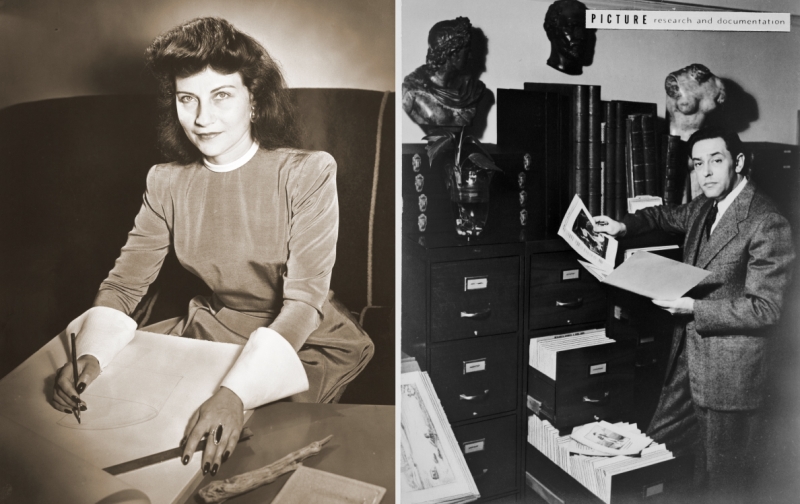 John and Peggy collected their prints as a reference library for design inspiration, and after their retirement they contemplated giving the collection to the Museum. A few years after John's death, Peggy bestirred herself to enact what they had dreamed. The gallery was piloted in a converted storage closet attached to Bird Hall—transformed by Peggy's design skills—starting in 1986. Peggy was involved in every aspect of the gallery, doing everything from choosing the artwork to making the cheese plates for receptions. In 1995, a whole new wing was built for the Maximus Gallery, enlarging the exhibit space, creating climate-controlled collection storage, and adding a spacious curator's office. Not only did Peggy fund the building of the gallery and donate her prints, she also created the Maximus Fund through a generous bequest to support the gallery's operations.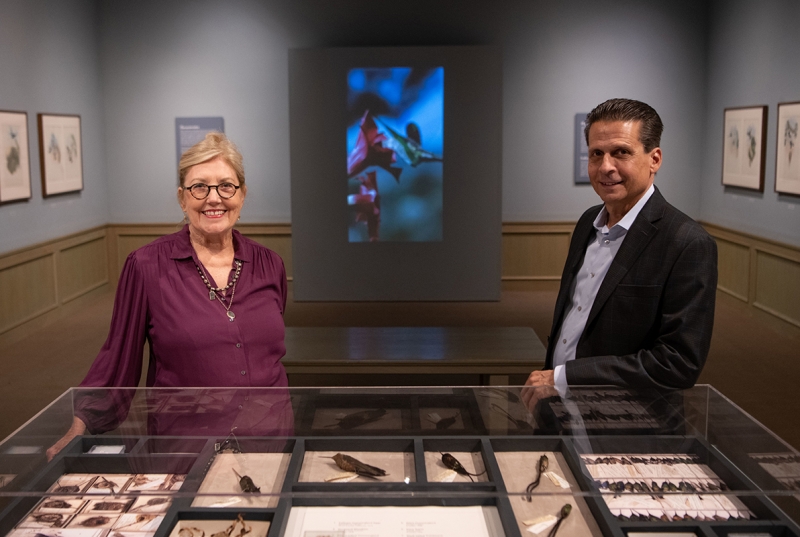 Meanwhile, the collection continued to grow, since the Maximus legacy included funds designated for conservation and acquisition. Since Peggy's time, the number of prints has doubled in size. After more than 20 years here herself, Linda Miller has overseen most of that growth. "Like anything over a period of 25 years, there's development and evolution," she says. Just this year, she and her right-hand woman Maximus Exhibit Designer Marian McKenzie completed a major collection reorganization, putting everything in new archival folders and relabeling to make the associated data more accessible. Marian made presentation mattes with acetate windows, so that some of the most significant works are immediately visible when you open drawers, while remaining protected. Linda reordered the 150 Audubon mammals taxonomically, making it easier to lay hands on any species. But the collection's main role at the Museum is to serve as a repository for regularly rotating exhibits—three a year—now totaling 65 since the wing was constructed.

"I've worked with three talented exhibit designers over the years, and each exhibit has been an adventure," says Linda. "We've explored so many fascinating stories." Her exhibit research has taken her to the great institutions of the West, in search of the historical documents and sketches behind the engravings. New York; Washington, DC; London; Paris. "I've been really privileged to visit a number of rare book rooms and libraries over my tenure here, because most of this material is locked up behind closed doors." The Windsor Castle Print Room stands out in her memory. There, she encountered the original watercolors of Mark Catesby, one of the most famous early European illustrators of North American wildlife. "I was struck by how incredibly beautiful they were. I fell in love with Mark Catesby all over again." But Linda never forgets that "these illustrations are not only beautiful, but scientifically important."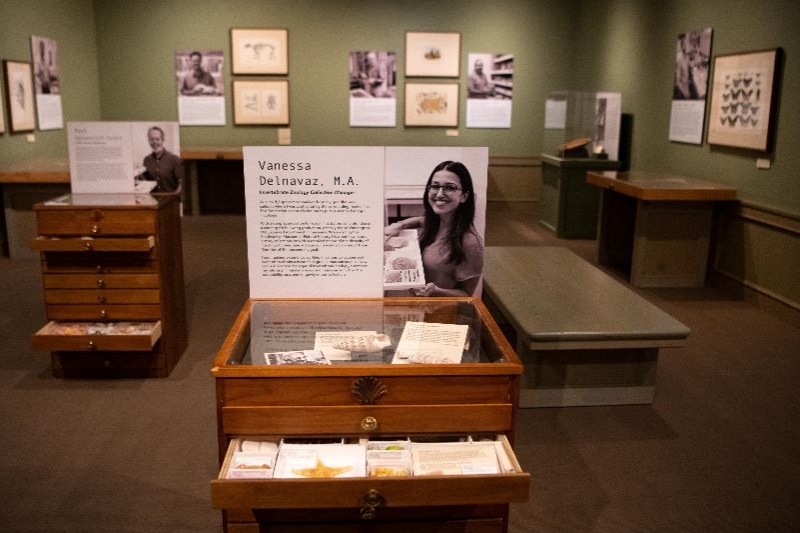 Since the gallery is attached to our full-spectrum natural history museum, it can call on the resources of the scientific departments to illustrate the illustrations. Linda fondly remembers Insecta, in which dense, information-packed engravings were accompanied by insect specimens from the Department of Invertebrate Zoology and antique microscopes. More recently, What's in our Drawers borrowed everything from artifacts from the Department of Anthropology to rare books from the Museum Library. Although Drawers pushed the envelope of the Maximus mission, Linda says, "I think Peggy would have loved it. She was a very open, interested, curious intellectual person. There's a picture of Peggy and John in the collection room, and I often say, 'How'm I doin', Peggy?' when I go by it."

Due to the print collection's emphasis on vertebrates, the Department of Vertebrate Zoology's specimens come to the fore most often. The mounted hummingbirds accompanying the current exhibition of John Gould's "living gems" offer insight into the challenges the naturalist faced—and the inspiration that drove him forward—when he tried to taxidermize and artistically depict animals he had yet to observe in person.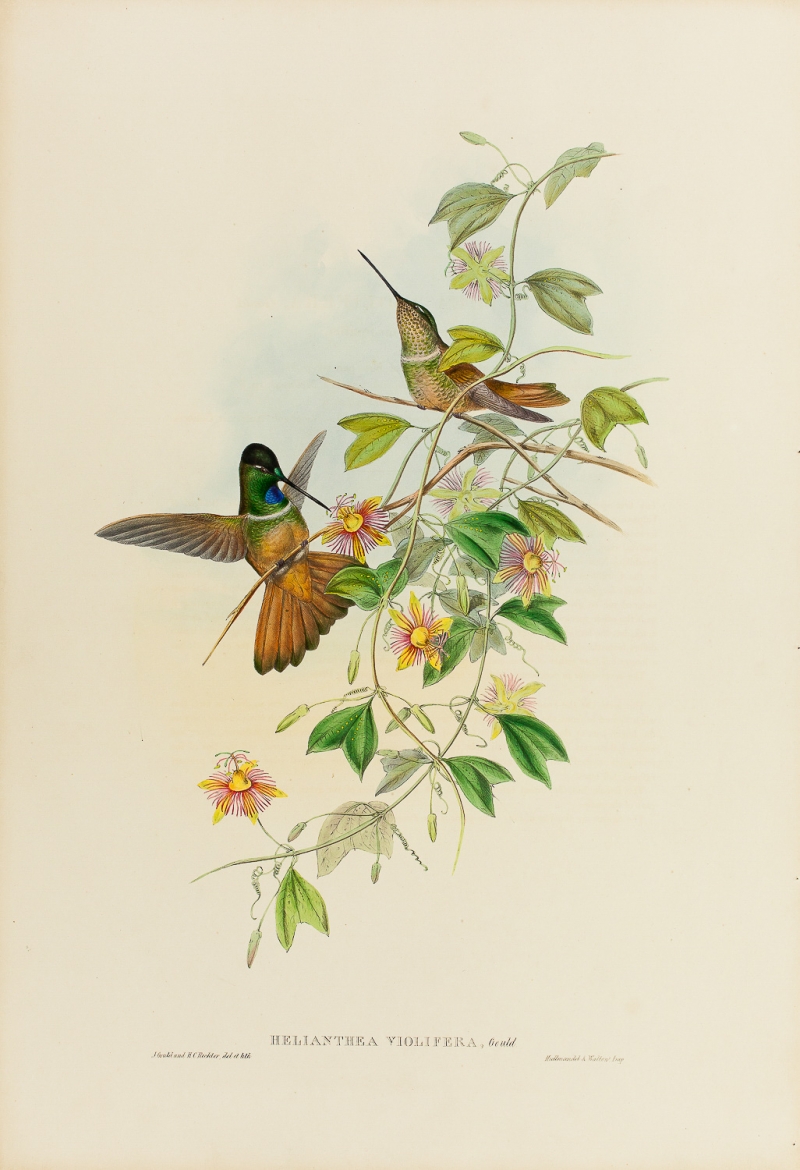 I've found that to really get this show you have to observe it from many viewpoints, literally. You have to move your head up and down and side to side if you want to see the iridescence of hummingbird feathers and the technique Gould used to illustrate them. Add the hummingbird sounds piped into the gallery from the Cornell Lab of Ornithology, and the synergy is unique. As Linda says, "The Museum is one of the few places in the world to have a gallery dedicated to showing this combination of history, science, nature, and art."

Peggy's goal in sharing this unique combination of themes was to inspire both appreciation of natural beauty and the desire to preserve it. Like every curator, Linda has goals for the future—facilitating more student access is one—but I think what we have already achieved in over 25 years of striving towards Peggy's goals is noteworthy in itself.

Did I mention we would have had champagne to go with the cake?

Here's to Maximus!